Heavy rains in northern Syria have exacerbated the suffering of internally displaced persons (IDPs) in rural Idlib and Hama, where hundreds of families are without shelter as a result of flooding, a local activist said.
The latest storm to batter the area has brought heavy rain causing flooding that swept through displacement camps and inundated tents, activist Haisam al-Idlibi told Diyaruna.
The ground was already saturated from earlier rainfall, he said, and this led to rapid flooding, which swept through everything in its path, especially the informal camps that had been set up on farmland.
Most camps in Idlib and eastern Hama province sustained damage, particularly Sarha, Deir Hassan, Lastum Wahdakum, al-Jwaid and al-Ghuraba, he said.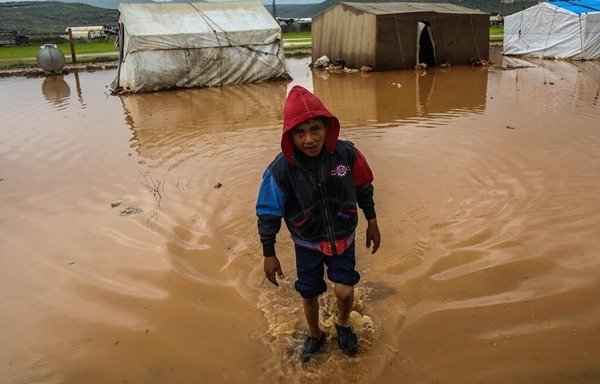 Many residents fled, he said, while others are trapped in camps inundated with floodwater, as roads leading to the camps and internal roads are impassable.
Humanitarian organisations have not been present during this crisis, he said, because of Tahrir al-Sham, the extremist alliance that controls the region.
The situation calls for a large-scale intervention to prevent conditions from deteriorating further, al-Idlibi said, especially as the rainwater swept away sewage collected in pits, thus contaminating the area.
This has raised the risk of outbreaks of illness in the camps, he said.
"Moreover, the modest equipment the camps were previously furnished with and tent furniture have been swept away by the floodwater, leaving the civilians with no support at all at the present time," he said.
"Assistance is limited to individual initiatives by independent activists and residents, who are trying to help in any way they can," he said.
This assistance includes opening roads to the camps and transporting some of the IDPs to relatively drier areas, al-Idlibi added.