Tens of thousands of civilians displaced from their homes in Idlib hotspots are facing serious troubles because of recent heavy rains that have triggered flash flooding in the camps where they are sheltering.
Of greatest concern are those sheltering in makeshift camps that were set up in recent weeks by civilians who were forced to flee when their hometowns came under heavy Syrian regime and Russian airstrikes and shelling.
Heavy rains triggered flash floods which swept through the camps, rendering tents uninhabitable amid a sea of water and mud and roads to the camps impassable, effectively trapping residents inside them.
Activists in northern Syria have said around 20 camps, hosting about 300 families, were severely affected by the rain and floods, Assaf said.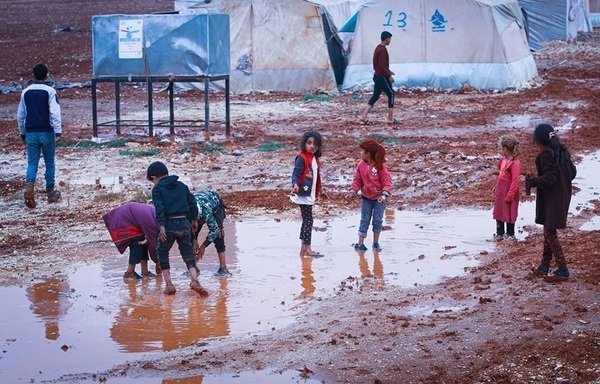 Al-Dhia 2 and Kafr Nabuda camps were among the hardest hit, he added.
The families who reside in these camps were displaced from various areas of southern rural Idlib and northern rural Hama over the past few weeks by intensive Syrian regime and Russian airstrikes, Assaf said.
They sought shelter in informal camps that were set up hastily without preparatory work to lay concrete bases for tents or put sanitation systems or any form of heating in place, he said.
This in turn led to the rampant spread of illness, particularly among children.
The latest survey conducted by activists indicates there are 1,153 established camps, hosting one million people, in addition to more than 240 informal camps where around 120,000 internally displaced persons (IDPs) reside, he said.
Many camps have been set up since early November, and are steadily growing in number because the security situation is getting worse by the day, Assaf said.
Civilian toll rises
Syrian regime airstrikes and artillery fire on Tuesday (December 17th) killed 23 civilians in Idlib and wounded a further 30, some seriously, the Syrian Observatory for Human Rights said, raising an earlier toll.
It said regime artillery fire killed seven civilians from the same family in the village of Talmanas, adding that the wife and three children of a member of the White Helmets rescue organisation were killed in the village of Badama.
On its Twitter account, the White Helmets posted a video of a volunteer apparently pulling the lifeless bodies of his family from the rubble of a building.
In the village of Maasaran, regime airstrikes killed a further six civilians.
Pro-regime bombardment also led to four other civilians losing their lives in other parts of the Idlib region, the Observatory said.
The Idlib region, which is home to some three million people, including many displaced by Syria's war, is largely controlled by Tahrir al-Sham.