Populist Iraqi cleric Muqtada al-Sadr has been the focus of increasing popular anger following his recent actions, which include a reversal of his position on the nationwide protests and attacks on protestors by militias under his control.
Dozens were killed or wounded on February 5th, when al-Sadr's "Blue Helmets" took to the streets in the shrine city of Najaf to break up the protests.
According to eye witnesses, they burned down protestors' tents, opened fire at them and threw hand grenades.
Violence also engulfed Karbala and Baghdad, as social media buzzed with videos showing Sadrists' assault on protestors using batons or stabbing them with sharp objects.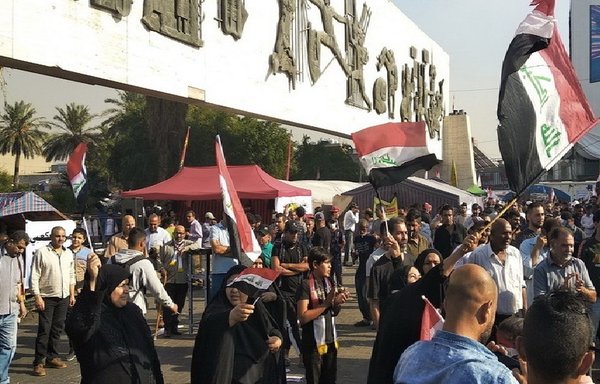 A protestor from Baghdad who asked to remain anonymous told Diyaruna he had witnessed a number of fellow protestors in Tahrir Square being kicked and beaten with batons by al-Sadr's supporters.
"The aggressors were from the Blue Helmets and were trying to take over Tahrir Square and kick the protestors out, and they succeeded in doing that," he said.
In response, mass demonstrations emerged condemning the brutality of this sort of oppression, with a representative for top Shia cleric Ali al-Sistani on February 7th condemning violence against protestors in the Friday sermon.
Al-Sistani said the violence was "painful and unfortunate" and said state security forces are "indispensable" to keep Iraq from "falling into the abyss of chaos".
The force of the reaction to the Sadrist violence forced al-Sadr to pull back his followers from Tahrir Square and hand over security to the Iraqi forces.
Reversal of position
Prior to these incidents, al-Sadr had indicated he supported the protestors, and announced he would form "unarmed" groups to secure their protection under the name of the "Blue Helmets".
"Al-Sadr's mask has fallen off," said political analyst Abdul Qader al-Nayel.
"The assaults by his followers prove that he never was in earnest, and is not looking to implement reform or champion the cause of the protestors as he claims," he told Diyaruna.
"This is merely a veil behind which he is hiding his intentions to obtain even more political gains and narrow party interests," he said.
The recent violence "shows the true face of al-Sadr as a leader of an outlaw militia that practices killing and persecution", al-Nayel added.
It seems that al-Sadr is seeking to fill the gap that Islamic Revolutionary Guard Corps Quds Force commander Qassem Soleimani left, he said, "so he can strengthen his influence".
"Militias have to be held accountable and brought to justice," al-Nayel said.
Public resentment
"People are angry and resentful of the violence of al-Sadr's militias," said Ghazi Faisal Hussain, an advisor at the Iraqi Centre for Strategic Studies.
The actions of Sadrists have included "defaming and insulting the honour of female protestors on social media", he told Diyaruna.
"Targeting the protestors is unacceptable, and violates the law and constitution that protects the freedom of demonstration," Hussain said.
Under Iraqi law, he said, protestors are permitted to express their anger at the economic conditions they face and at the Iran-backed militias that threaten the state.
"Al-Sadr, who supported the popular demonstrations, has a political bloc called Saeroon, and there have been several observations regarding its role in divvying up economic interests with other parties and militias," he said.
"There is talk of a strong link between al-Sadr and Iran and Hizbullah, and there are many questions regarding the role of the Sadrist movement, which also bears responsibility for the catastrophic circumstances the country is in," he said.
Hussain noted that "the Najaf religious authority has declared on several occasions its support for the protestors, and its strong rejection of the attempts of the militias to quash those protests".
"Criticism of violence against protestors from Najaf is rising, as well as calls for the security forces to do their job and reveal the culprits who killed protestors and bring them to justice," he added.
Al-Sadr 'an Iranian tool'
Security expert Hatem al-Falahi told Diyaruna the bloody incidents in Najaf and the dangerous violations perpetrated by al-Sadr's followers "have confirmed al-Sadr's culpability in the Iranian agenda".
Al-Sadr is "an Iranian tool", he said.
"The Iranian regime wants al-Sadr to lead the political and security portfolios through his militias, and to move towards ending the protests by using excessive force," he said.
The January 13th meeting of senior leaders of Iran-backed Iraqi militias in the Iranian city of Qom, which al-Sadr attended, "has defined the features of this direction", al-Falahi said.
"The Iranians seek to gather Iraqi militias and offer them as tools for al-Sadr, so the latter can consolidate his power," he added.
Al-Falahi noted that "members of the Kataib Hizbullah, Harakat al-Nujaba and Kataib Imam Ali militias have joined the Blue Helmets in the latest crackdowns against protestors".
He expressed doubts about al-Sadr's February 12th decision to disband the Blue Helmets, noting that al-Sadr "has made numerous decisions to dissolve and freeze his militias so he can reconfigure them under different names".