Despite his initial public backing of Iraqi protestors, notoriously fickle Iraqi cleric Muqtada al-Sadr later withdrew his support, dealing a significant blow to his popularity among Iraqis, experts say.
While this is par for the course for al-Sadr, who is known for changing alliances, it is apparent he has now chosen to serve as Iran's point man in Iraq, they said.
Anti-government demonstrators on Thursday (February 6th) vowed to push on with their wave of rallies as they buried seven fellow activists killed overnight in violence blamed on al-Sadr supporters, AFP reported.
Al-Sadr loyalists had raided a protest camp in Iraq's shrine city of Najaf late Wednesday.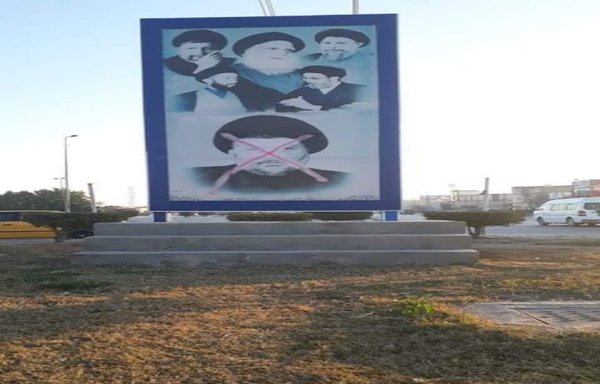 Seven anti-government demonstrators were killed by bullets to the head or chest, medics in the city said, and dozens more were wounded. In the melee, tents where protestors had slept for weeks were burned down.
Sadrists went on to occupy the site themselves, AFP journalists said.
On Monday, another demonstrator was killed in a clash between the two sides in the southern city of Hilla.
Al-Sadr, a militiaman-turned-politician, initially backed the anti-government rallies when they erupted in October but split with the movement suddenly last weekend.
He then endorsed Mohammad Allawi as the country's new prime minister designate, in stark contrast to most of the protestors who reject the politician as an establishment figure.
In the southern city of Diwaniyah on Tuesday, the rift escalated into a fistfight between young anti-regime demonstrators and al-Sadr backers, who are recognisable by their signature blue head caps.
Police intervened to separate the two camps but the young protestors broke into chants against al-Sadr, Iraqi authorities as well as Iran, whom they accuse of backing the government's crackdown against them.
Allawi, 65, was nominated on February 1st after two months of political stalemate over who would replace ex-premier Adel Abdul Mahdi, who resigned in November.
Implementing Iran's agenda
Al-Sadr supporters attacked demonstrators and prevented them from raising any banners against Allawi's nomination, in what Iraqi MP Bassem Khashan described as "gang-like" behaviour.
Popular anger in southern Iraq against the Sadrist movement's actions is on the rise after photos and videos surfaced of the beatings, stabbings and assaults Sadrists carried out against Iraqi demonstrators, including female students at the University of Baghdad, he told Diyaruna.
Iraqi protestors have been chanting anti-Iran slogans to denounce al-Sadr, who they accuse of loyalty to the Iranian regime.
"We do not take orders from those sitting in Iran" and "Get rid of them all", are some of the popular chants being heard in the protest squares.
"Al-Sadr is executing an Iranian agenda that aims to put an end to the demonstrations," said activist Ahmed Haqi, who co-ordinates demonstrations in al-Habboubi Square in al-Nasiriyah, Dhi Qar province.
"He is trying to prove his loyalty to Iran and not to Iraq," he told Diyaruna.
Since the killing of Islamic Revolutionary Guard Corps Quds Force commander Qassem Soleimani, al-Sadr has reactivated the Mahdi Army, nearly a decade after its dissolving, "although the militia was accused of appalling sectarian crimes", Haqi said.
He also withdrew his support for the anti-government protests, which triggered fears that without his political cover, authorities would move to crush the movement -- and indeed, within hours, riot police tried to storm protest camps.
And now, al-Sadr has ordered his followers to suppress the demonstrators under the pretext that they include "infiltrators acting on a foreign agenda", said Haqi.
"Al-Sadr's allegations against the demonstrators are identical to those made by [Iran supreme leader Ali] Khamenei, who described them as mobsters and called on the Iraqi government to suppress them," he said.
"We regard al-Sadr's actions as an implementation of the Iranian will and nothing more," Haqi said.
Sadr City rises against al-Sadr
The strongest slogans against al-Sadr were raised in Sadr City, the eastern suburb of Baghdad, on Monday, when Iraqi demonstrators tore up the cleric's portraits that line the streets, marking an "X" on some of them.
Activists circulated the phrase "Tawathi Democracy", in reference to the sticks and batons -- known in Iraqi dialect as "tawathi" -- that al-Sadr supporters have been using to assault the demonstrators.
"Who would have believed these chants are coming out of areas al-Sadr traditionally considered his strongholds," said Iraqi expert Mohammed al-Tamimi.
The image of al-Sadr, who has worked hard to set himself apart from other militia leaders such as Asaib Ahl al-Haq leader Qais al-Khazali and Harakat al-Nujaba head Akram al-Kaabi, has deteriorated recently, he told Diyaruna.
The Iraqi people now view him as being "no different from the others", he said, adding that the cleric "also has stained his family's reputation".
As a sign of al-Sadr's declining popularity and prestige, senior figures within the Sadrist movement, including Sheikh Asaad al-Nasiri, have announced their refusal to abide by the cleric's orders to withdraw from the protests.
"I think al-Sadr is well aware of what he is doing," said al-Tamimi, noting that "his statements and tweets, which have mostly been confusing and contradicting, indicate that he is now trying to be Iran's point man in Iraq".