Reactions are mounting in Iraq to the pressure exerted by Iran-backed militias to terminate a security partnership with the US.
Analysts say this partnership is a "bulwark" against Iranian ambitions to "swallow up Iraq", flood it with tensions and divisions and consolidate the militias' power and influence.
They slammed the march organised by the Sadrist movement on Friday (January 24th) in Baghdad to demand the departure of US forces from the country.
Political and media researcher Ziyad al-Sinjari said the Sadrists' march was "political par excellence" and "expressed the will of Iranians and not the [Iraqi] people, who do not want their strategic partnership with the US to be terminated to please Iran".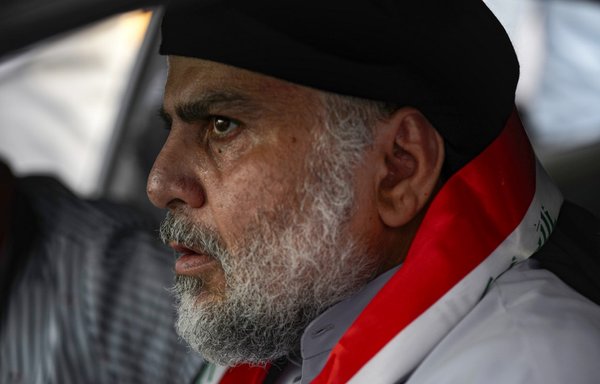 Sadrist movement leader cleric Muqtada al-Sadr once sought to ride the wave of popular protests rejecting Iranian interference, but now is warming up to Iran and the militias it backs in Iraq, al-Sinjari said.
The demands to expel US forces "conflict with the national interest and only serve the Iranian project that wants to swallow up Iraq", he told Diyaruna.
Terminating the partnership with the US "would expose the country to grave dangers, foremost of which is that Iran will move to fill the void and mobilise its proxies to tighten their grip on Iraq's resources and flood the country with crises and chaos", al-Sinjari said.
"Iran is constantly trying to circumvent sanctions by exploiting Iraq's resources and turning it into an economic outlet and a conduit for its activities and hostile policies in the region," he said.
"In the absence of US troops, the Iranian regime will find the door wide open to step up its interferences and threats to regional and global security," he said.
Sadr's 'multiple identities'
Sadr, 46, is a notoriously fickle politician, known for switching alliances quickly, AFP reported.
He backed anti-regime protests early on, but also controls parliament's largest bloc and top ministerial posts.
After his march Friday, Sadr said he would no longer support the separate reform campaign, which prompted his followers to take down their tents and withdraw from the demonstration grounds.
Activists also feared that without his political cover, authorities would move to crush their movement -- and indeed, within hours, riot police tried to storm protest camps.
Those efforts continued into Sunday, with security forces using live rounds and tear gas to try to flush protestors out of squares and streets they had occupied for months.
One protestor was shot dead by unidentified gunmen in Baghdad and another in the southern city of Nasiriyah, medical sources said, and dozens more were wounded across the country.
Carnegie Middle East Center expert Harith Hasan said Sadr sought to sustain his "multiple identities" -- one as a reformist, populist and anti-establishment, the other as a leading anti-American voice.
Playing both sides could earn Sadr favour with Iran and empower him in paralysed negotiations over the next premier, Hasan said.
But Friday's intra-Shia alliance was not likely to last, Hasan said, predicting: "Once this protest is over, the honeymoon between Sadr and the other pro-Iran factions will eventually vanish."
On Saturday, the Co-ordinating Committee for Popular Protests in Iraq issued a statement accusing al-Sadr of betraying the protestors in exchange for "promises from Iran to grant the post of prime minister to the Sadrist movement".
A large number of supporters of Iran-backed militias joined the Sadr march last week, which reflects the rapprochement between the two sides since al-Sadr met with the leaders of those militias in the Iranian city of Qom January 13th.
Observers said the Iranian regime, which sponsored the meeting, is trying to unify the ranks of groups that support its agendas.
Ali Shamkhani, secretary of Iran's Supreme National Security Council, said the Sadr march was a "countdown" to expelling US forces.
US presence crucial
"Iran views Iraq as its security depth," strategy expert Alaa al-Nashou told Diyaruna.
"If the Americans leave, [Iran] will control our entire country and will not face any difficulty in advancing its mischievous agendas and interferences in Iraqi affairs," he said.
"Our partnership with the US is today a bulwark against Iranian ambitions. We cannot block the Iranian regime's penetration and its malicious agendas without that support," he stresses.
"Iraqis want this partnership to continue because it also enhances their country's ability to counter the terrorist threat," al-Nashou said.
"Iraqi forces are in urgent need of training, arming, information and logistical support in order to be able to become self-reliant and prevent terrorist remnants from expanding [their presence] and resuming their activities," he said.
He said the country is still "exhausted" from the war on terrorism and needs the world to stand by it to rebuild its infrastructure and support the national economy.
"Political decision-makers in Iraq ought to strengthen co-operation with the US and the world, and not align with Iran, because this would [...] push our country toward isolation and collapse," he said.
"There is a political divide in Iraq between those who support US forces staying and those who oppose it," an Iraqi parliamentary source told Diyaruna.
"Those opposed to it are political parties affiliated with the Iranian project," said the source, speaking on condition of anonymity. "They are today trying to impose their will on the other parties."
"On the other side, there are blocs who support the US presence, because there would be serious security, political and economic consequences if the US Forces were to withdraw," the source said.
"Fears remain high among most Iraqis of all affiliations of the country falling into Iran's grip," the source said.
Rockets on US embassy
A senior US official said Thursday his country has not yet entered into talks with Iraq on the removal of US troops from the country, as demanded by the Iraqi parliament.
"There has not been any real engagement," said ambassador James Jeffrey, the US special envoy for Syria and the coalition against the "Islamic State of Iraq and Syria" (ISIS).
"Our position, as you know –- we've said it several times -- is that we're prepared to discuss with the Iraqi government our overall strategic relationship," Jeffrey told reporters.
"We have a Strategic Framework Agreement with Iraq since 2008," he said. "It covers economic, security, and diplomatic engagement across the board.
"We see this as a package," Jeffrey said. "And when we do sit down and talk with them, that's where we'll be aiming to direct the conversation."
On Sunday evening, three rockets slammed into the US embassy in Baghdad, wounding one person, according to a senior Iraqi official and a US diplomatic source.
No details were immediately available on whether the casualty was a US national or an Iraqi member of staff at the mission, AFP reported.
The US embassy did not immediately respond to requests for comment, while the US State Department called on Iraq to "fulfill its obligations to protect our diplomatic facilities".
Iraqi Prime Minister Adel Abdul Mahdi and Speaker of Parliament Mohammed Halbusi both condemned the incident, saying it risked dragging their homeland into war.