Hundreds of Iraqi women staged a march Wednesday (February 19th) in the holy city of Najaf insisting on their right to play a central role in the protest movement sweeping the country.
"No voice can muffle the voices of women," said one of the marchers, Saba, 22, reacting to a call last week from influential Shia cleric Moqtada al-Sadr against mixed-sex demonstrations.
"We started demonstrating to bring down the regime. Now we're holding women-only marches because they've insulted us," she told AFP.
Nada Qassem, a university professor in her 50s, also focused her criticism on al-Sadr, who at first supported street protests but later turned against them over demonstrators' alleged use of drugs and alcohol.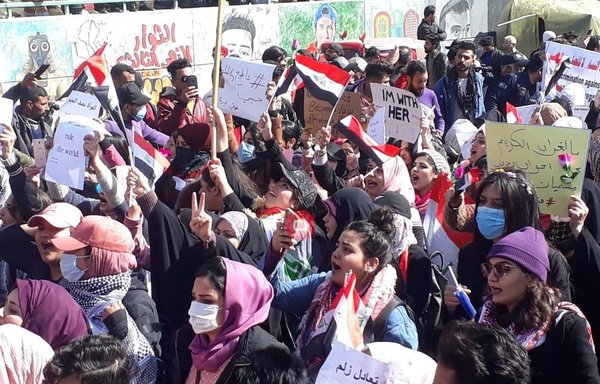 "We are free. We don't go out on the orders of a cleric or stop because of some decree," said Qassem, who herself was injured in attacks on anti-government protestors by Sadr's supporters.
Wednesday's march follows another last Thursday in which hundreds of Iraqi women of all ages flooded central Baghdad alongside male protestors, defying al-Sadr's order to separate the genders in the rallies.
Al-Sadr had tweeted on February 8th that protestors must "observe Sharia law and social rules" and not "mix with members of the other sex in the sit-in tents".
And a few moments before Thursday's women's march began, al-Sadr once again took to Twitter to slam the protests as being rife with "nudity, promiscuity, drunkenness, immorality, debauchery... and non-believers".
Clad in purple, pink and red, the women held up signs and chanted slogans defending their role in the demonstrations and condemning the defamation campaigns directed at them, especially on social media.
'Engine of the protests'
"The female demonstrators carried messages denouncing the oppression and abuses they have been suffering and confirming that they stand with their male brothers and will continue to participate in the protest movement," said activist Bushra al-Obeidi, former member of the Iraqi Human Rights Commission.
"Women have played a major role in the protests through leading youth gatherings, volunteering as paramedics and equipping demonstration venues with food and logistical equipment," said al-Obeidi, who took part in the Baghdad protests.
"The women's protest movement is remarkable, as it has managed to break all barriers of backwardness and ignorance," she said. "Women have been able to raise their voice and prove their existence and fight for equality and justice."
This movement is being met with "malignant campaigns aimed at excluding women from the demonstrations by blasting them, smearing their reputation and stirring up public opinion against them", al-Obeidi told Diyaruna.
Women marched in Baghdad and the rest of the provinces under the guard of male demonstrators who formed a protective ring around them, according to al-Obeidi.
"Women have had a strong presence in all protests and shown great courage in defending their country's cause and demanding public rights," said activist Layla al-Barzanchi, director of Jud, a Mosul-based humanitarian organisation.
"The recent women's marches confirm that women will not go back to the ways of the past, nor retract their national positions under any pressure or extortion," she told Diyaruna.
"They will remain the main engine of the protests."
"Iraqi women have faced many abusive campaigns aimed at marginalising their role, the last of which was the campaign to undermine female candidates in the last parliamentary elections," al-Barzanchi said.
But women "have restored through the protests their self-confidence and their ability to take part in building a new future for their country".