Iraqi forces on Sunday (February 2nd) conducted a search operation for remnants of the "Islamic State of Iraq and Syria" (ISIS) in northern Diyala province, interspersed with fierce rocket shelling of terrorist hideouts in areas near Salaheddine province.
The search took place in Lake Hamreen and al-Khalawiya area, in addition to Camp Aisha, an old ISIS training camp, according to officials.
During the operation, units from the 5th Infantry Division of Diyala Operations Command and Diyala Police found and destroyed five terrorist rest-houses, also destroying the supplies, fuel and other supplies inside.
The Iraqi air force carried out an airstrike on a boat in Lake Hamreen, killing two suspected terrorists onboard.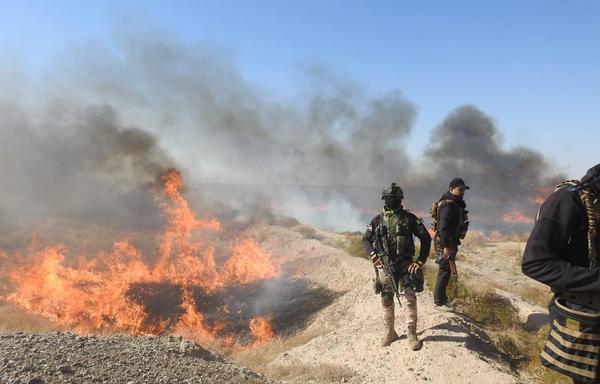 Iraqi forces also carried out mortar and artillery shelling on areas along the administrative border between the provinces of Diyala and Salaheddine, Abdul Jabbar al-Obeidi, the administrator of al-Azim district in northern Diyala, told Diyaruna.
"The bombing hit many terrorist hideouts, but the extent of the losses among [ISIS] remnants is still unclear," he said.
The attack focused on border areas "stretching some 70 kolimetres from east of the town of al-Dulouiya in the south and up to al-Azim Dam and Hamreen hills in the north", he said.
ISIS presence in border area
The border area "is uninhabited [by civilians], since the local population has been displaced from its villages for nearly five years now", al-Obeidi said.
The villages of "al-Mutaybija, al-Mayita, al-Sabiaat, Ghadairifa and Albu Fuerij are not currently secure enough for their population to return to," he said.
"ISIS remnants are still secretly operating in remote areas within those border areas and using them as a safe haven despite the security forces launching continuous operations to track them down and strike them."
"ISIS remnants are taking advantage of the scarce deployment of military units holding the territory and the difficulty to cover all areas in aerial monitoring due to the vast geography and the natural burrows they contain that provide the terrorists protection from surveillance," al-Obeidi said.
Al-Obeidi called on Iraqi security forces to "step up security activities [in the area] to allow displaced residents to return".
He said residents want to return and "contribute strongly to protecting their areas and fending off terrorist threats".
"The centre of al-Azim district is stable due to the presence of sufficient numbers of soldiers, police and tribesmen who are performing their duties to the fullest in fortifying the town and combatting any attempts by the terrorists to disrupt security," he added.