Security has been enhanced to protect remote villages in the northern Diyala district of al-Azim from attacks carried out by "Islamic State of Iraq and Syria" (ISIS) remnants, the local administration announced Tuesday (July 3rd).
Security forces have imposed a security alert in remote al-Azim villages which are adjacent to the administrative border with Salaheddine province, district director Abdul Jabbar al-Obeidi told Diyaruna.
The heightened alert comes in the wake of sporadic ISIS attacks and an increase in the group's activities in the surrounding areas, al-Obeidi said.
"Since the beginning of this week, the security forces and the tribes have deflected two terrorist attacks, one of them in the village of Albu Bakr," he said.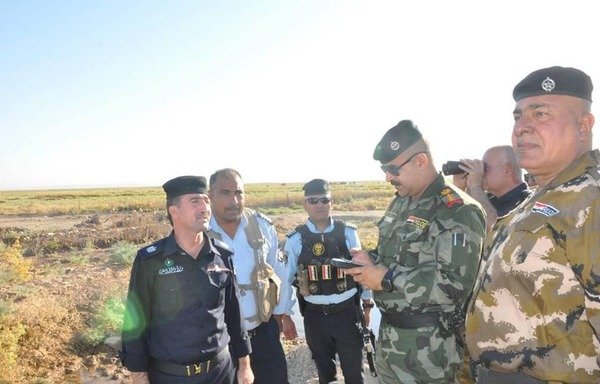 While defending the village, one member of the tribal forces was killed and another was wounded, he said.
The second attack targeted a security position in the village of Shadif, killing one member of the security forces and wounding three others, he said.
One civilian was killed last Sunday when an improvised explosive device (IED) exploded on a car in the village of Mubarak al-Farhan, al-Obeidi added.
This incident occurred close to the village of Anjana, where two weeks ago ISIS elements kidnapped six men, whose executed bodies were discovered last week.
Search and raid operations
The recent increase in attacks has triggered a state of high alert, with security forces conducting raids to search for ISIS strongholds and thwart the group's movements, al-Obeidi said.
The 5th Infantry Division, Diyala Operations Command and army aircraft on Monday launched an operation to track down ISIS sleeper cells on the outskirts al-Azim and to clear roads and abandoned houses, he said.
The Iraqi air force also struck a building near the village of Tal Farhan outside Tuz Khurmatu, killing 16 extremists who were hiding there, he added.
Despite the recent uptick in violence, families from the remote villages of al-Azim have chosen to remain in their homes, al-Obeidi said.
"The residents are holding on to their areas, standing with the security forces, and giving them support and assistance to maintain security by providing information and also participating in pursuit campaigns," he said.
Security operations must be accompanied by other efforts to control the land being searched and to clear any remaining pockets of ISIS fighters, he added.
"We should focus on building military bases, checkpoints and mobile garrisons, especially in the area of Hamreen Hills and the areas along the main road from al-Azim to the city of Kirkuk through Salaheddine province," al-Obeidi said.