Iraqi forces are tightening the noose around remaining "Islamic State of Iraq and Syria" (ISIS) elements in a region connecting Diyala, Salaheddine and Kirkuk provinces.
On Saturday (December 7th) at dawn, they launched the seventh phase of the "Will of Victory" security campaign, which began five months ago.
Dozens of villages have been secured so far, while ISIS hideouts and improvised explosive devices (IEDs) have been destroyed.
The new phase of the campaign covers a "geographically complex" area shared by the provinces of Diyala, Salaheddine and Kirkuk, said security expert Fadel Abu Ragheef.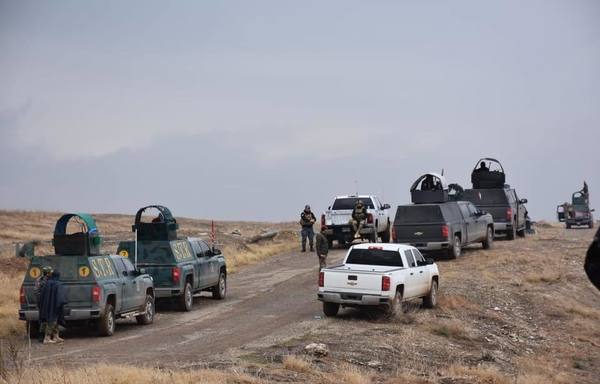 The operation is carried out in administrative areas separating those provinces, starting from the villages of al-Azim Basin and the hills of Hamreen, al-Jallam and Mutaybija, and the Allas and Ajil oil fields, all the way to al-Hawijah, he told Diyaruna.
Information available to the intelligence agencies indicates that there are ISIS remnants hiding in caves and natural tunnels there, he noted.
These remnants are taking advantage of areas where security responsibilities intersect between the different military operations commands, regarded as "no man's land" due to their rugged terrain, dirt roads and uninhabited swaths of land.
Exhausting ISIS remnants
Units with the Diyala Operations Command have destroyed more than 14 rest-houses, seized one motorbike, and searched and secured 17 areas and villages, including al-Azim district, camp Aisha, and the villages of Albu Talha, Sabah al-Azzawi, Albu Awad, Albu Bakr, Khudeir Kaw, Albu Abada, and Umm al-Hawali.
In the Salaheddine Operations Command sector, which includes the western part of the Lower Zab River, the Hamreen hills and the Allas fields, the army and police have destroyed 11 ISIS rest-houses that contained food, medical supplies and bags containing urea nitrate.
They also destroyed three tunnels -- one of which was 150 metres long -- 23 IEDs and 50 mortar shells, he said.
In Kirkuk, Iraqi forces conducted a thorough search of 63 villages in al-Hawijah district, arresting 19 wanted persons and destroying four caves, 119 IEDs and 26 mortar shells, in addition to two explosive belts and a motorcycle.
The intensive operations have "left the enemy with exhausted and ineffective capabilities, and unable to reorganise", Abu Ragheef said.
"The military pressure disrupts the terrorists' ranks and expedites the end of those who remain," he said.