"Islamic State of Iraq and Syria" (ISIS) remnants in Iraq's Diyala province are reeling from their "biggest loss" since the start of the year, local officials said.
According to Diyala provincial council security committee chairman Salih al-Hussaini, security forces have killed 40 ISIS elements since the beginning of September during assaults on their hideouts in the province.
The assaults targeted hideouts the group had considered to be "safe and fortified" and resulted in "the heaviest losses the group has received this year" and the arrest of "dozens" of ISIS elements, al-Hussaini told Diyaruna.
Among them were ISIS commanders and members of sleeper and active cells.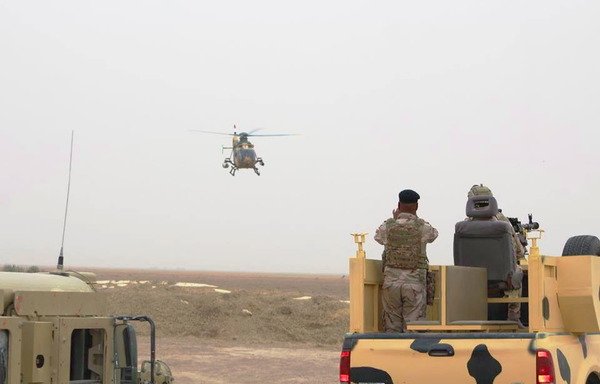 "Our forces are hunting down these elements in every inch of the province," he said. "Security coverage now extends to every area and village, no matter how remote."
During these security operations, Iraqi forces managed to penetrate and destroy the main headquarters of ISIS's so-called Wilayat Diyala, al-Hussaini said.
This dealt a "severe blow" to the group, which had intended to use this location as a major centre, where it could reform its battered ranks and resume its destabilising activities, he said.
Intelligence-based arrests
In mid-October, forces from the Diyala Operations Command arrested a senior ISIS commander, said Diyala Operations Commander Lt. Gen. Mizher al-Azzawi.
During subsequent interrogations they managed to obtain information that led them to the headquarters of Wilayat Diyala, he told Diyaruna.
"As soon as we obtained the intelligence, we headed to the location, which was in the form of 20 underground tunnels, at the edge of the Hamreen basin," he said. "These tunnels were completely destroyed."
ISIS had used the tunnels as a place to store weapons, ammunition and food and living supplies, he said.
Three senior commanders of ISIS's Wilayat Diyala were killed in the assault, he said, adding that this operation was just one of many military offensives that have targeted the hideouts of ISIS remnants across Diyala.
These have resulted in the destruction of ISIS hideouts in the Aisha camp area in Hamreen; al-Tabaj basin; al-Zour in Khanaqeen; Sheikh Baba in Jalawla; southern Bahraz; and Sarha and al-Adhim near the Salaheddine border.
On November 8th, al-Azzawi said, a three-member ISIS sleeper cell was dismantled in the Kili area, between Khanaqeen and Jalawla in eastern Diyala.
"The Diyala intelligence unit managed to find that cell as a result of precise intelligence they received," he said.
Detainees from that operation are currently being interrogated, he added, in hopes they will provide information that could lead to other terror networks.
"We are hunting them down and going after them in deserts and caves, and when we find them, we immediately capture or kill them," al-Azzawi said.
"We will not give them the chance to rebuild their capabilities," he added. "Our soldiers are doing their job and are determined to end the threat of terrorism."
'Tough lesson' for ISIS
The Diyala Police Command has meanwhile given ISIS remnants a "tough lesson" during recent security operations, command spokesman Col. Ghalib al-Attiya told Diyaruna.
"Our forces recently managed to kill seven dangerous terrorists," he said, in addition to finding and destroying 17 of the group's safe houses.
Recent operations have covered areas in northern and eastern Diyala, he said, where ISIS has taken advantage of the rugged terrain to hide out.
"We are approaching our work with other security and intelligence agencies with a sense of team spirit, and we have a roadmap that we are using to infiltrate terrorist cells and their hideouts," he said.
"We are making progress, but some of these results will not be announced now, so that we do not hinder progress achieved," al-Attiya added. "The enemy is collapsing, and those who remain are on the path to perdition or prison."