Opposition activists who spoke with Diyaruna described the killing of Islamic Revolutionary Guard Corps Quds Force (IRGC-QF) commander Qassem Soleimani as a gift to the Syrian people.
They enumerated the crimes Soleimani had committed against them, particularly his support of the Syrian regime and intervention in the Syrian war, which they said has dragged out the conflict.
Militias operating in Syria under his direct command or influence are responsible for killing thousands of Syrians, they said.
After news of Soleimani's death spread, there was an outpouring of joy across opposition-controlled parts of Idlib, Hama and Aleppo provinces, Idlib activist Haisam al-Idlibi told Diyaruna.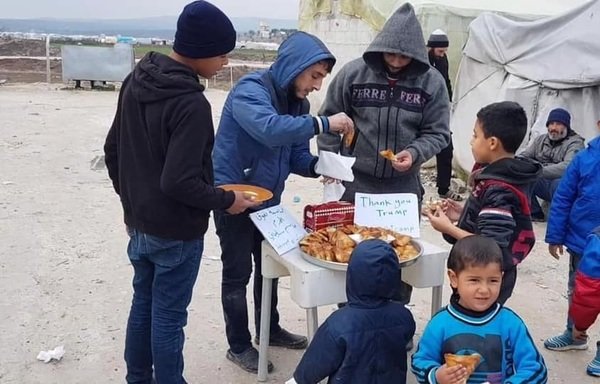 In many towns, villages and displacement camps, residents handed out sweets in celebration of what they are treating as a victory.
They said they have suffered and continue to suffer as a result of the Iranian regime's expansionist policy, carried out by Soleimani's IRGC-QF and affiliated militias, which wreaked havoc on the Syrian people, al-Idlibi said.
These actions thwarted the goals of the Syrian uprising and contributed to the death or displacement of tens of thousands of Syrians, he added.
No love for Soleimani
"The outpouring of joy that swept across parts of Syria over Soleimani's killing is not surprising," Syrian lawyer Bashir al-Bassam told Diyaruna.
Soleimani was directly responsible for supporting the regime of Bashar al-Assad, he said, attributing the Syrian regime's survival to his intervention.
"He also was responsible for the movement of thousands of militiamen from Iraq, Lebanon, Afghanistan and Pakistan to Syria to fight alongside the regime's forces," al-Bassam said.
The Iranian intervention in Syria, orchestrated by Soleimani, led to civilian deaths on an enormous scale, as well as wide-scale demographic change, which the IRGC-QF commander pursued through the mass displacement of civilians.
This process of demographic change continues to this day, he noted.
Soleimani also was directly responsible for the propagation of the doctrine of Wilayat al-Faqih (Guardianship of the Jurist), which calls for allegiance to Iran's Supreme Leader Ali Khamenei, he said.
This doctrine has been heavily promoted in parts of Syria where Iran is attempting to consolidate its control and recruit youth to fight in the ranks of its militias, he said.
By attempting to assert Iranian control over Syria and striking economic agreements with the Syrian regime, Soleimani has usurped the resources and wealth of the Syrian people, he said.