The Syrian regime has begun to implement a process of demographic change in the Damascus suburbs, a Syrian activist told Diyaruna.
In the eastern suburb of al-Qaboun, previously a key opposition stronghold, a wide-scale demolition process is under way, activist Mohammed al-Beik said.
Al-Qaboun was handed over to the regime pursuant to recent settlement agreements, and has been completely emptied of its residents, he told Diyaruna.
Some time ago, Syrian government institutions began evacuating al-Qaboun district, starting with factories that had been operating for decades and then shifting their focus to private homes, al-Beik said.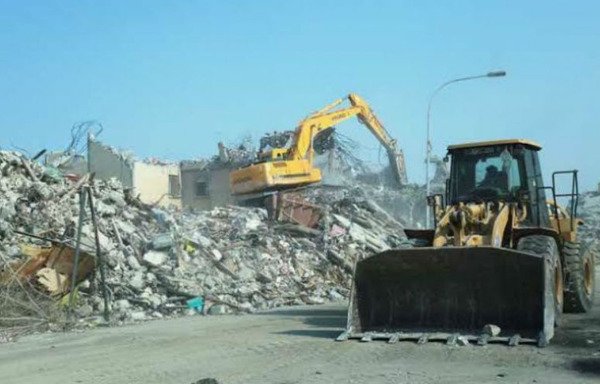 This was done under the pretext of re-planning the area and clearing randomly built structures pursuant to the Urban Renewal Law, commonly known as Decree 10, which details the reorganisation and re-planning of the Damascus area.
Decree 10 allows the government to take private property to create zoned developments, compensating owners with shares of the new projects.
But international experts and human rights agencies have expressed concern that its application in Syria is riddled with violations.
If their land is part of a new development, owners inevitably lose the property and must complete bureaucratic procedures within tight deadlines to get shares in exchange, they said. But the owners are often displaced, missing paperwork, struggling financially, or may not learn of requirements in time.
'A clear strategy'
According to al-Beik, the closure of factories, industrial zones and workshops was a clear strategy to sever every source of income for the area's residents.
"Factory and workshop owners have not received compensation," he said.
And while the owners of major factories were invited to relocate to the Adra industrial area, further east of Damascus, they were required to pay for the land on which the new factories would be built, he said.
"But land prices are beyond the means of most of the industrialists," he added, noting that the regime clearly intends to "drive them away from the area altogether with these impossible terms".
As for the local civilian population, al-Beik said, all of them were evacuated, and were promised they would receive financial shares in compensation for the land on which their buildings stood.
"This drove many to sell their property at meagre prices so as not to come out empty-handed should the regime decide to seize their property," he said.
The regime took advantage of the situation, he said, noting that regime loyalists bought the properties cheap and then sold them on to regime institutions.
The demolition of the entire district of al-Qaboun has commenced, al-Beik said, and it will be rebuilt in line with the new demographic plan being implemented by the Syrian regime, under which only regime supporters will reside in the district.
Iranian-Syrian companies are present in the area and will carry out the construction of the new city, he added, which suggests that factions allied with Iran's Islamic Revolutionary Guard Corps (IRGC) will be housed there as well.