US President Donald Trump ordered the killing of Islamic Revolutionary Guards Corps Quds Force (IRGC-QF) commander Maj. Gen. Qassem Soleimani, the Pentagon said Friday (January 3rd).
The Pentagon described the strike, which occurred during an air raid at Baghdad's international airport on Friday, as a "decisive defensive action to protect US personnel abroad".
The deputy chief of Iraqi paramilitary umbrella group, the Popular Mobilisation Forces, Abu Mahdi al-Muhandis, also was killed in the strike.
"Gen. Soleimani was actively developing plans to attack American diplomats and service members in Iraq and throughout the region," the US Department of Defence said in a statement.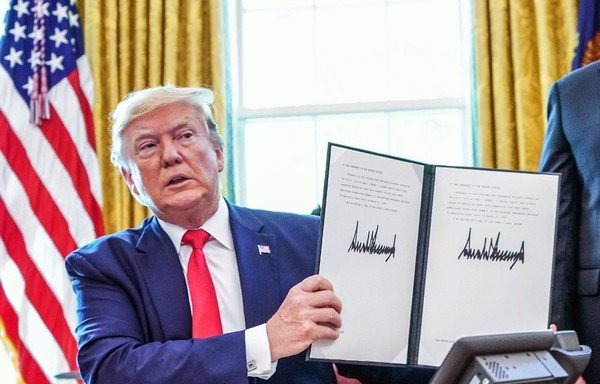 "Gen. Soleimani and his Quds Force were responsible for the deaths of hundreds of American and coalition service members and the wounding of thousands more," it added.
A pro-Iran mob this week laid siege to the US embassy following deadly US airstrikes on a hardline PMF faction.
The US had called the strikes in response to a rocket attack days earlier that had killed an American contractor working in Iraq.
The Baghdad airport was hit in a volley of missiles just after midnight Friday, Iraq's military announced.
Iran's ambassador to Iraq, Iraj Masjedi, said "two vehicles were attacked with missiles by US forces" and all 10 passengers, including Soleimani, were killed.
Soleimani headed the IRGC-QF and also served as Iran's pointman on Iraq.
'Decisive defensive action'
"At the direction of the President, the US military has taken decisive defensive action to protect US personnel abroad by killing Qassem Soleimani, the head of the IRGC-QF, a US-designated Foreign Terrorist Organisation," the Pentagon said.
"This strike was aimed at deterring future Iranian attack plans," it added.
The Pentagon said Soleimani had orchestrated attacks on international coalition bases in Iraq over the past months, including on December 27th, the day the US contractor was killed.
"Gen. Soleimani also approved the attacks on the US Embassy in Baghdad that took place this week," it said.
US Secretary of State Mike Pompeo said Friday that Soleimani was planning imminent action that threatened US citizens when he was killed in a US strike.
"He was actively plotting in the region to take actions -- a big action, as he described it -- that would have put dozens if not hundreds of American lives at risk," Pompeo told CNN.
"We know it was imminent," Pompeo said of Soleimani's plot, without going into detail about the nature of the planned operation.
"This was an intelligence-based assessment that drove our decision-making process," Pompeo added.
IRGC confirms death, names successor
In a statement read out on state television, Iran's IRGC confirmed that Soleimani had been killed by US forces in Baghdad on Friday.
The channel said the attack was carried out by US helicopters.
Iran's supreme leader Ali Khamenei on Friday named the deputy head of the IRGC's foreign operations arm, Brig. Gen. Esmail Qaani, as Soleimani's successor.
The announcement was made in a statement posted on Khamenei's official website.
Khamenei described Qaani as one of the "most decorated commanders" of the IRGC during the 1980-88 Iran-Iraq war.