August security operations in Diyala province succeeded in eliminating more than a dozen commanders and operatives of the "Islamic State of Iraq and Syria" (ISIS), Iraqi police in Diyala announced at the end of last month.
"ISIS lost 14 of what is left of its senior commanders and remnants in August," Diyala police spokesman Col. Ghalib al-Attiya told Diyaruna.
Suicide bombers and first-line leaders were among those killed, he said, thereby thwarting ISIS's plans "to launch large-scale attacks on civilian gatherings in Baquba and other cities in the province".
As Iraqi forces carried out successive strikes on ISIS hideouts in the province, the group had relied on these foreign and Iraqi elements to disrupt peace and security to raise morale among its scattered remnants, he said.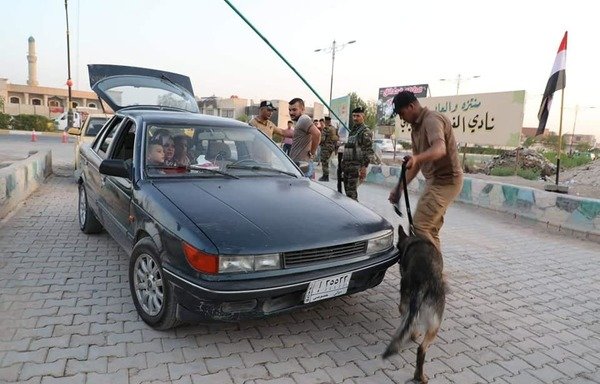 "The ISIS elements' deaths came as a result of surprise operations by the Diyala police and the Diyala Operations Command," he said, noting that intelligence agencies had provided them with reports on ISIS's plans and hideouts.
The militants were hiding in caves in the Hamreen highlands and in remote areas in the northern and eastern parts of the province, al-Attiya said.
Taking down the 14 ISIS operatives, some of whom were targeted during the third phase of the Will of Victory campaign, is "considered to be one of the biggest defeats for the enemy this year", he added.
"We will not stop hunting down and attacking these elements and destroying all their capabilities," he said.
Security forces have made significant progress in their efforts to rout ISIS remnants, he added, "but we still have more to do to prevent ISIS from expanding and to end its presence in the province".
Keeping pressure on ISIS
ISIS does not have the capacity at present to stage large-scale attacks in Diyala province as it has done in previous years, Diyala provincial council member Sajid al-Anbaki told Diyaruna.
Security pressure, intelligence activity and co-operation from the local civilian population have all served to further weaken the group, he said.
ISIS will continue to decline, he added, as long as there is "collaboration among all the security agencies" to maintain lasting security and stability in Diyala.
"More than 40 ISIS commanders were killed this year in ambushes and operations launched by the security forces in different parts of Diyala," Diyala police chief Maj. Gen. Faisal al-Abbadi said on August 23rd.
ISIS has been rendered "quite weak in Diyala, and only has scattered cells here and there that have been heavily hit by the security forces", he said.
Security forces made solid progress in hunting down ISIS remnants during the Will of Victory campaign, said Diyala provincial council member Khodar Muslim.
"The achievements that our forces have made strengthen our confidence in them to constantly defeat the terrorist group and crush its remnants," he told Diyaruna, noting however that there is no room for complacency.
It is still necessary to "keep up our security and intelligence efforts and remain alert so the terrorists do not get a chance to achieve any gains", he said.
This includes preventing the propagation of extremist ideology, Muslim said.
"We have to fight extremist ideas and everything that leads people to join terrorists, the most important of which is unemployment," he added.