Iraqi forces on Monday (August 5th) kicked off the third phase of the "Will of Victory" security campaign, which will focus on clearing large swathes of Diyala and Ninawa provinces of "Islamic State of Iraq and Syria" (ISIS) remnants.
Units from the Diyala and Ninawa operations commands, local police forces and local tribes are taking part in the operation, ministry of defence spokesman Brig. Gen. Tahseen al-Khafaji told Diyaruna.
Iraqi and international coalition warplanes are providing air cover, he said.
The area of the operation has a complex topography with mountainous ranges, "including the Atshana mountain range and the areas of Badoush and Sheikh Ibrahim in Ninawa", al-Khafaji said.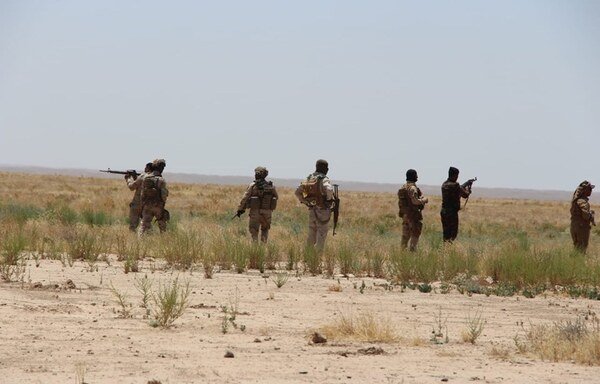 It also includes the Hamreen mountain range and isolated villages in the northern parts of the districts of Jalawla, al-Muqdadiya and Khanaqin in Diyala, he added.
A few hours before the launch of the operation, coalition warplanes targeted a gathering of ISIS remnants in al-Samar village, a deserted area in the district of Makhmour, south-east of Mosul, he said.
"Six terrorists were killed, including three senior ISIS leaders," said al-Khafaji.
The early hours of the operation saw the killing of at least five ISIS elements and the destruction of several rest-houses and hideouts in Ninawa, he said, adding that the Atshana mountain range and mountainous villages in Badoush are now cleared.
Meanwhile in Diyala, "three terrorists wanted on terrorism charges were arrested and two rest-houses and secret sites were destroyed", he added.
'Determined to rid Iraq of ISIS'
Joint Iraqi forces on July 7th embarked on the "Will of Victory" campaign to drive ISIS remnants out of Iraq's western desert and from areas along the Syria border.
The campaign, announced by Prime Minister Adel Abdul Mahdi, aims for the total elimination of ISIS cells in the desert that stretches across Anbar, Salaheddine and Ninawa provinces and up to the Iraq-Syria border.
The third phase of the campaign is "a new phase of direct confrontation with terrorism remnants", al-Khafaji said, adding that it will be followed with more operations until the group is fully eliminated.
The first two phases of the operation, which focused on clearing Anbar's western desert and areas north of Baghdad of ISIS, have achieved "significant security results", al-Khafaji said.
"The current phase carries a clear message to the terrorists: we will not stop pursuing you," he said. "We are determined to rid Iraqis of your scourge, return displaced families to their areas, and instill security and peace in all parts of the country."