The Diyala Police Command recently announced it has set up a special force, which has been charged with tracking down "Islamic State of Iraq and Syria" (ISIS) remnants hiding in local orchards.
The mission of the special police force is to clear Diyala's orchards of ISIS elements through proactive operations, command spokesman Col. Ghalib al-Attiya told Diyaruna on Wednesday (November 28th).
The new force has been trained to hunt down militants hiding out in areas with abundant trees and crops, where the dense vegetation provides them with cover, he said.
Fighters from the new force have begun to deploy in detachments in most orchards, he said, and on Tuesday launched a security operation in the orchards of al-Mukhaisa, al-Abbara and northern al-Muqdadiya.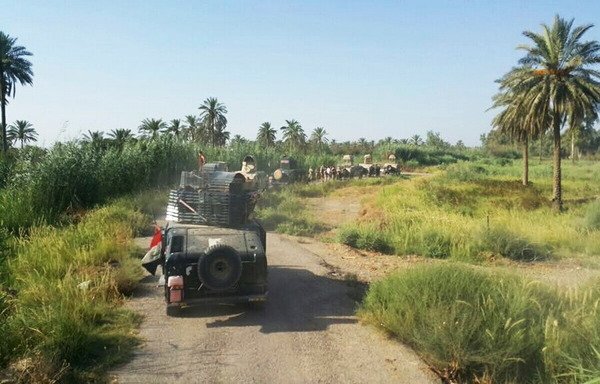 Fighters also are deploying to the villages of al-Aswad, al-Ghalibiya, al-Kasasiba and Khazraj and their orchards, he said.
During the Tuesday operation, two ISIS rest-houses that had been ready to receive ISIS elements were burned down, al-Attiya said.
Destroying secret hideouts
The new force was formed "to eliminate the terrorist presence in the orchards", al-Attiya said, noting that their presence has been hard to detect through aerial reconnaissance.
"ISIS is always seeking to gain a foothold there and reorganise its ranks through establishing rest-houses and secret hideouts among the groves, and by deploying snipers," he said.
The militants have taken advantage of the terrain and the Iraqi forces' inability to bring in military vehicles and transport heavy weapons, he added.
"Therefore, our plan is to conduct quality pursuits and to rely on trained security elements, and our operations in this regard will continue according to a precise operational schedule," al-Attiya said.
The police command has been working with the Diyala Operations Command, the intelligence service and other security agencies to prevent ISIS remnants and cells from threatening the province's security, he said.
So far this week, he said, 18 wanted individuals have been arrested, including five on terrorism related charges, in different parts of Diyala.
The Diyala Police Command and the new force seek to maintain contact with the local population, he stressed, especially the population in agricultural villages.
"We want to strengthen the bridges of trust between us and the citizens to support the security efforts," he said.