Iraqi warplanes on Sunday (July 28th) killed four "Islamic State of Iraq and Syria" (ISIS) elements in a strike on their hideout in the western Anbar desert.
The hideout was located in a valley, 90 kilometres south of the Ein al-Assad military base in al-Baghdadi district, Anbar tribal forces leader Sheikh Qatari Samarmad al-Obeidi told Diyaruna.
"At least four terrorists died in the strike," he said, noting that the 7th Infantry Division reconnaissance aircraft surveyed the site for a while before striking it "at the right time".
Reconnaissance planes conduct two missions every week to comb desert areas in search of ISIS remnant hideouts, he said, adding that Iraqi forces are vigilant and "immediately tackle any militant activity".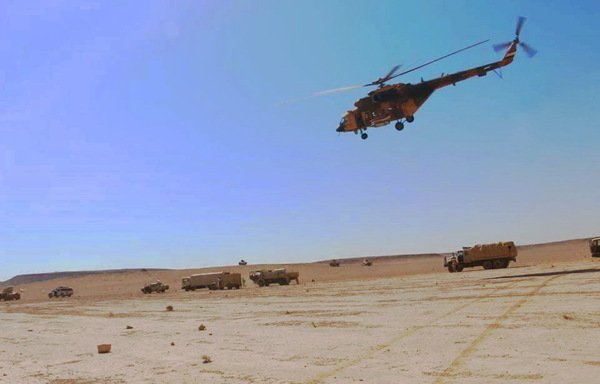 Military campaigns under way
A new military operation has been launched to pursue ISIS remnants hiding in the desert, al-Obeidi said.
With air cover from the Iraqi army, joint forces of the 1st and 10th infantry battalions under the Anbar and al-Jazeera operations commands, Anbar police and tribal forces, embarked on a search operation Saturday in the desert of al-Rutba district, he said.
The operation is aimed at "searching vast desert areas with caves, valleys and complex terrain where terrorists might be hiding", he said.
Security forces seek through the operation to "eliminate all ISIS burrows in these areas with the help of shepherds and Bedouins", said al-Obeidi.
They are working to recruit more local residents in the desert as informers who can provide immediate, reliable information on the militants' movements and hiding places, he said.
The operation to date has led to the destruction of a number of secret ISIS sites, according to local media reports.
Meanwhile, the "Will of Victory" campaign, launched July 7th, has crushed ISIS remnants in the western desert, which Anbar shares with the provinces of Salaheddine and Ninawa, al-Obeidi said.
The campaign aims for the total elimination of ISIS cells in the desert that stretches across Anbar, Salaheddine and Ninawa provinces and up to the Iraq-Syria border.
"Many ISIS members have been killed or arrested and large stocks of ammunition, including 27 thermal rockets, have been seized in Wadi al-Halkoum south of al-Qaim," said al-Obeidi.
"No cases of militant infiltration have recently been recorded at the Syrian border," he said, adding that the desert clearing operations are carried out in conjunction with efforts to fortify the border.