Iraqi forces have found a mass grave of victims of the "Islamic State of Iraq and Syria" (ISIS) in Anbar's Heet district Sunday (April 5th), Anbar tribal commander Sheikh Qatari Samarmad al-Obeidi told Diyaruna.
"Joint forces from al-Jazeera Operations Command and the 29th Brigade of the army's 7th Division carried out, based on intelligence information, a search operation in the village of al-Khouda in southern Heet," al-Obeidi said.
The forces "first discovered a tunnel and weapons cache containing a motorbike", he said. "But after careful inspection of the site, they found human remains inside it."
"It became clear that it contained a mass grave of victims killed by ISIS," he added.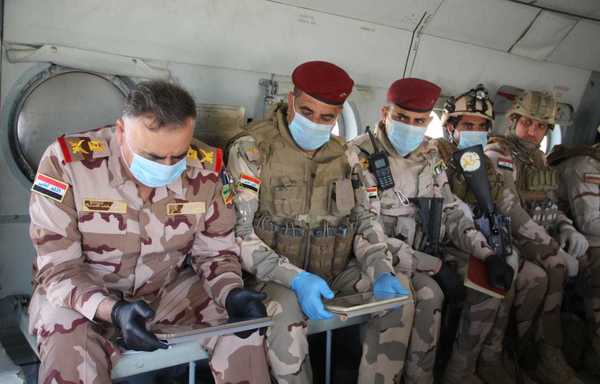 Remains of at least 20 discovered
"According to preliminary information, the grave contains the remains of at least 20 victims," al-Obeidi noted.
They are the remains of civilians from Heet and members of the Iraqi army and police who were killed between 2014 and 2016 when ISIS was in control of the district, he said.
The grave once again shows the hideous face of the terrorists, who have committed countless human rights violations, he said.
"Terrorism continues to hurt its victims whenever opportunity presents itself," he said, noting that three ISIS elements on Sunday attacked a 1st Infantry Division security post in the desert west of al-Rutba, near the international highway.
"The attack led to the death of four soldiers and the wounding of two others, while the three attackers were chased down and killed," he added.
Operations against ISIS continue
"This breach does not indicate a weakness of the security measures or negligence in the efforts to confront the enemy, as search campaigns and operations to track down terrorists in desert areas continue unabated," he said.
Air reconnaissance operations take place in the western desert at a rate of three sorties a week, he said, adding that al-Jazeera Operations commander Maj. Gen. Qassim al-Mohammedi went on a reconnaissance mission April 6th accompanied by other officers.
"Meanwhile, the forces of the al-Obeid, Albu Mahl, al-Jaghaifa and al-Karabila tribes also participate extensively in the operations to track down terrorists deep in the desert," al-Obeidi added.
"Still, completely securing all desert areas remains an extremely difficult task, and the enemy may take advantage of the desert's terrain and vast area to hide in camouflaged sites and launch the occasional attack," he said.
Al-Obeidi revealed that security forces will soon launch a 10-day "major military campaign" aimed at searching large areas in al-Tharthar desert, northern Rawa district, Wadi Houran and Wadi al-Qathf for ISIS hideouts and remnants.