Iraqi and international coalition forces have together succeeded in thwarting an "Islamic State of Iraq and Syria" (ISIS) "terrorist plot" in western Anbar, an Iraqi tribal official said Tuesday (April 2nd).
"The terrorist remnants received a powerful blow four days ago when one of their secret bases was hit in a precision airstrike by the international coalition," tribal leader Sheikh Qatari al-Samarmad al-Obeidi told Diyaruna.
The strike hit an ISIS base in Wadi Zughaidan, a desert area near the city of Haditha, he said, adding that it was conducted "based on intelligence from the Iraqi intelligence services".
"The bombing resulted in the destruction of a tunnel, a vehicle and two motorcycles," he said, and killed a total of 11 ISIS elements.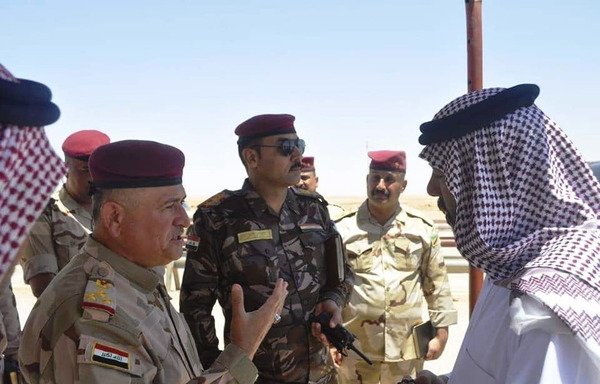 The airstrike killed "four suicide bombers who were riding in the vehicle, two on the motorcycles and the rest inside the tunnel", he said.
The cell had been "planning to infiltrate Haditha and neighbouring towns and carry out suicide attacks", al-Obeidi said.
"Thanks to the vigilance of the intelligence and security services and the rapid intervention of the coalition's aircraft, the terrorist plot was thwarted," he added.
Tracking down ISIS remnants
"The movements of ISIS remnants and infiltrators are exposed," al-Obeidi said.
This is thanks to support from the local population, especially those living in desert villages, and their co-operation with the security forces, he said.
In one recent incident, he said, a militant was arrested and another killed after they infiltrated from Syria and hid in al-Hamidiya area in eastern Anbar.
The two Iraqi nationals had been monitored "from the moment they crossed into the country, and were trapped in a planned ambush", he said.
"The tracking down of [ISIS] remnants in the western desert continues along two paths," al-Obeidi said.
The first route is westwards from the Anbar province town of al-Baghdadi to al-Qaim, al-Rutba and the border with Syria, he said; and the second is north from Haditha lake towards Salaheddine and Ninawa provinces.
"Security and tribal units are conducting at least one sweep of the desert every week with the participation of Iraqi army and international coalition aircraft," he said, locating and destroying ISIS weapons caches or rest-houses.
Developing a new security plan
"We can say that we have eliminated almost all the terrorists hiding in the desert," al-Obeidi said. "There still are very small enemy groups in the desert areas between the al-Jazeera and Salaheddine Operations commands."
The security commands are "looking to develop a new plan, especially since ISIS was defeated in the Syrian area of al-Baghouz", he said, the last sliver of territory the group controlled across the border.
The new plan will focus on stepping up search campaigns and intensifying co-ordination between the various security units and with the local population in Iraq's desert areas, al-Obeidi said.