Iraqi forces have cleared some 30,000 square kilometres of "Islamic State of Iraq and Syria" (ISIS) remnants since the "Will of Victory" security campaign kicked off just over two weeks ago, a military official said Tuesday (July 16th).
Since July 7th, joint forces have been taking part in a large-scale campaign to hunt down ISIS remnants in the desert areas between the provinces of Salaheddine, Ninawa and Anbar, up to the border with Syria.
"Iraqi forces have succeeded in clearing an area of ​​30,000 square kilometres" of desert between the three provinces, Joint Operations Command spokesman Brig. Gen. Yahya Rasul told Diyaruna.
"Our units have fully secured this area and reached deep into the desert for distances that have not been reached since the ISIS gangs invaded the country in June 2014," he said, describing the effort to date as "a quality achievement".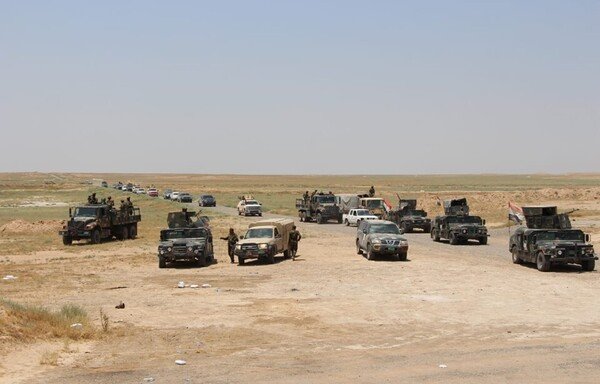 "The campaign has caused much destruction to the enemy's capabilities," Rasul said, noting that a large number of the group's logistical support sites, rest-houses, and weapons and explosives caches have been destroyed.
A number of ISIS elements have been killed, while others have been arrested, he said, without giving specifics, adding that "equipment and important documents related to their secret cells have been seized".
Iraqi forces will continue clearing the desert until the last ISIS element is ousted, he stressed.
Taking full control of the desert
The Joint Operations Command has devised "a strategic plan to take full control of the desert and to prevent the enemy from exploiting it for hiding and for building its capabilities", Rasul said.
Key features of the new plan include the use of unmanned aerial vehicles (UAVs) to monitor large areas of the desert around the clock, he said.
"Thermal cameras similar to those currently located on the border with Syria also will be installed to monitor nightly enemy movements near desert villages," he added.
"Intelligence efforts will be stepped up in co-operation with the local population, while pre-emptive security operations will continue in order to tackle any attempt by the terrorists to regroup and to establish new bases," Rasul said.
"We want to fully secure the western desert and to end any covert enemy presence there, in conjunction with the ongoing operations to maintain the security of the border, especially with southern Syria," he said.