ALMATY – Children born to Kazakh women who joined the "Islamic State" (IS) and were then repatriated back to Kazakhstan are undergoing a long rehabilitation.
Operation Jusan (Bitter Wormwood), a series of repatriation flights from Syria carried out between 2019 and 2021, brought back more than 700 Kazakh nationals, including 188 women, from territory formerly held by the IS.
Among those returning were children, including orphans, many of whom have seen clashes up close and know nothing but war.
Olga Ryl of Nur-Sultan, director of Chance -- an NGO that provides legal and psychological assistance for at-risk juveniles -- and chairperson of the NGO Pravo (Law), recounted some of the experiences these children faced in Syria.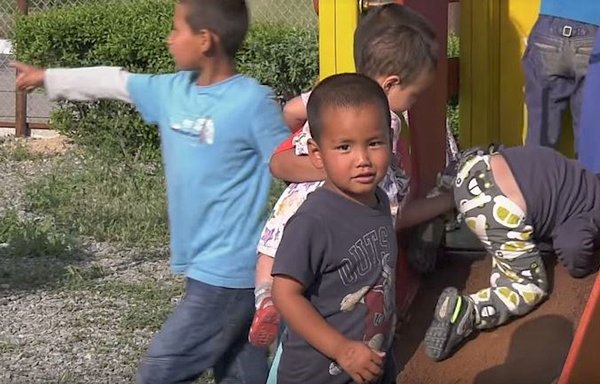 One boy witnessed his mother dying in an explosion and was forced to treat his own wounds with medicine he found on the ground after an air raid.
It was harrowing to look at these children and try to grasp what they had faced, Ryl said.
In the wartime conditions they were living in, the mothers took on the traditional role of men to keep their families going, while the eldest children took on their mothers' roles, Ryl said.
"I remember being astounded by something I once saw while doing the night rounds at the centre in Aktau -- a nine-year-old girl was doing laundry at midnight because her mother was sleeping," she said, referring to the mass intake centre for repatriated Kazakhs.
"That's how things were when the family was still in Syria: the tired mother rested while the oldest child had to do household chores."
Identifying children
One of the key factors in the process of the children's rehabilitation was acquiring necessary documents for the mothers and children to receive medical and financial aid, according to Ryl.
"While it was simpler to reissue documents for the mothers who were deported to Kazakhstan after they received a certificate authorising their return...things turned out to be very complicated with the children," she said.
"The mothers gave birth in tents, and only a few of them went to hospitals, but either way, no one gave them any birth certificates," Ryl said.
In 2018, Ministry of Justice forensics centres began DNA testing to establish kinship as part of the Chance NGO initiative.
However, the state allocated funds for DNA testing only for 2018 and 2019, terminating them in 2020.
Chance bore some of the expenses, and others stepped up as well.
"Workers from the Ministry of Justice forensics centres stepped up and collected money to pay for the research," Ryl said, adding that sometimes the workers went to private laboratories for the complicated tests needed for "establishing kinship between an aunt with her nieces and nephews".
In some cases, relatives of the children paid for the private testing.
The costs to establish maternity started at 85,000 KZT ($200), while the cost to establish kinship between a grandmother and grandchild or between an aunt and nieces or nephews ran up to 350,000 KZT ($825), she added.
Based on the conclusions of the tests, Pravo lawyers went to court to request birth certificates for the children.
The state then entered their information into its database and issued birth certificates for them.
The effort set a new precedent in Kazakhstan -- judges in the past had either not heard such cases at all or had not dealt with them in such large numbers, according to Ryl.
As soon as the mothers obtained reissued documents, the state paid them targeted social assistance. During the strict coronavirus lockdown from March to May 2020, they received 42,500 KZT ($99) per month in benefits.
In the second half of 2018 and 2019, the state provided food assistance. Initially it paid 15,000 KZT ($35) per child per month, but in 2019 it raised the monthly amount to 21,000 KZT ($50) per child.
Chance "acquired some clothing but not for all provinces", Ryl said.
Medical treatment, rehabilitation
Meanwhile, many of the children who returned from Syria needed medical treatment.
Nearly all had dental problems, and many were suffering from complications from cold-related and infectious diseases. Others needed surgery because they had been wounded.
"The children who had disabilities from an early age were treated in the rehabilitation centre in Aktau, and when they went home to their relatives, they were immediately assigned to clinics and continued to receive treatment," said Ryl.
Ryl told the story of a 14-year-old boy who, apparently from stress, lost the use of his legs -- a year and a half after returning from Iraq.
His mother is serving a sentence in the Rusafa prison in Baghdad for violating Iraqi law, and his oldest brother was killed at age 17 in IS-held territory, she said.
The 14-year-old boy is now under the legal guardianship of relatives along with his younger brother and sister.
In Rusafa, where the three children were held with their mother, the children all shared a mattress on a stone floor for three years, Ryl said.
Rehabilitation is a long, tough process, and one never knows how things will turn out for the child afterwards, Ryl said.
Children's socialisation is another challenge, she added.
The beginning of their new life was trying for these children, since they had to forge relationships with adults and children in their surroundings at home and at school. Having to go to school was a major ordeal for them, said Ryl.
"To make their adaptation easier, before September 1, the children were sent on an outing to the schools they would be attending."
"Once, an assistant principal's simple question about where they were from threw them into shock and made them cry," she said.
"When they got back to the [rehabilitation] centre, they said they didn't want to go to school because everyone would find out that they'd come from Syria. So the children again visited the school they'd be attending, met with the homeroom teachers, and of course, met with a psychologist to work through these fears and others," Ryl said.