ALMATY -- Kazakhstan's government programme against radicalisation has made significant progress over the past year, combining online preventive campaigns and women-focused rehabilitation programmes that have achieved positive results.
At a news conference on September 7, Yerzhan Nukezhanov, chairman of the government's Committee on Religious Affairs (KDR), described some of the methods and strategies that the government uses to prevent the radicalisation of citizens as well as to de-radicalise former extremists.
In the first half of 2021, he said, the government posted tens of thousands of preventive and counter-propaganda messages online, about double the level compared to last year.
Nukezhanov claimed these posts diverted thousands of Kazakhs from being brainwashed by radical groups on social networks.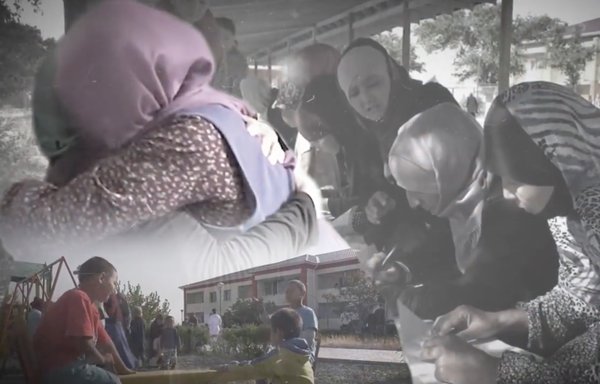 He especially highlighted the success of the de-radicalisation programme, which has achieved positive results with nearly all the women whom authorities repatriated from terrorism-stricken Middle Eastern regions as part of the 2019-2021 multi-flight Operation Jusan (Bitter Wormwood).
Jusan Zoom
For more than a year, Gulnaz Razdykova, director of the Centre for Analysis and Development of Interfaith Relations (TsARMO) in Pavlodar, has been leading a large-scale online rehabilitation programme for repatriated women.
TsARMO is one of several non-governmental organisations in Kazakhstan working to rehabilitate former extremist women.
Because of the pandemic, the organisation has come up with new ways to continue its work successfully. In June 2020, it launched the Jusan Zoom project -- an online initiative for repatriated women who were undergoing rehabilitation programmes.
Out of the more than 700 Kazakhs repatriated from former ISIS territory in Syria and Iraq between 2019 and 2021 as part of Operation Jusan, 188 were women, according to the Kazakh government.
About 20 of those women are serving prison terms, "so we don't have access to them", she added.
Word of mouth was also effective in spreading the word about the programme. Women who returned to Kazakhstan on their own, thereby lacking access to the official rehabilitation resources helping Operation Jusan repatriates, found out about Jusan Zoom from beneficiaries and joined, she said.
This brought the total number of participants to 100 women.
"I think this is a sign of how efficient and critical our programme is," Razdykova said.
Voluntary participation
One condition for participating in the programme is that the women must volunteer to do so -- no one has forced them to join the Zoom group, explained Razdykova.
About 60 women are in Jusan Zoom after 40 completed their rehabilitation since 2020, she said.
"It's hard to keep people engaged online for a year and a half, but we've managed to do it. During the course I repeatedly asked the women what else they wanted to learn and if there were any gaps in the programme. Based on their responses, I adjusted the programme sessions," she said.
The most common request Razdykova received pertained to child psychology, neurology and the study of disabilities -- such as bed-wetting, delays in speech development and stuttering in children -- since all the participating women are mothers and are concerned about their children.
Kazakh children's rights ombudswoman Aruzhan Sain conducted one session, where the women asked questions about protecting children and organising summer recreation for them, she said.
"The second most frequent query was family psychology, followed by questions about health [third most frequent]."
"So we invited general practitioners, gynaecologists and infectious disease specialists, whom the women consulted," Razdykova said.
The fourth most frequent request centered around legal and social issues. Specialists from the Ministry of Labour and Social Protection answered those questions and discussed the rules governing disbursement of targeted social assistance: who receives these payments, how much they are, and what documents the applicants must submit.
Meetings with clergy, scholars
The women had two Zoom sessions with the supreme mufti of Kazakhstan, Nauryzbay Kazhy Taganuly.
"We also invited international experts to join us. For example, a theologian from Uzbekistan, Bakhtiyer Babajanov, talked about radicalism and extremism and his country's experience with de-radicalisation," Razdykova said.
Elena Zhirukhina from the Organisation for Security and Co-operation in Europe (OSCE)'s Bishkek office explained the link between human trafficking and terrorism.
The sessions take place every Saturday and Sunday, and they draw repatriated women from all over Kazakhstan, Razdykova said.
Provincial offices of the Spiritual Administration of Muslims of Kazakhstan (DUMK) and of the KDR conduct most of the rehabilitation, though, where the women live throughout Kazakhstan.
"What we're doing is supplementary rehabilitation of women's communities," said Razdykova.
Over the course of the programme, Razdykova said she has found that the radicalism of these women stems not just from their piety or psychology but also from their limited education and narrow worldview.
These areas, therefore, need to be addressed, she said.
"I adapted the trainings to take into account the mentality of religious believers -- you can't sway them with the same tactics you use on a secular person. You also need to consider gender differences when doing this work: it's a given that you don't photograph the women, and you have to uphold strict confidentiality when interacting with them and build a relationship of trust," Razdykova said.