Iraq is taking steps to ensure the children of Iraqi mothers born into unregistered marriages -- whether to "Islamic State of Iraq and Syria" (ISIS) members or under other circumstances -- are able to receive Iraqi birth certificates and all the benefits of citizenship.
Many of these children remain undocumented because their terrorist fathers were either killed, fled to unknown locations or have gone missing during liberation battles to drive them out of areas that they once occupied.
As a result, paternity is difficult to prove, making obtaining official legal documents for them a challenge.
The Iraqi authorities, however, are trying to resolve this issue before it becomes intractable and results in a host of future complications.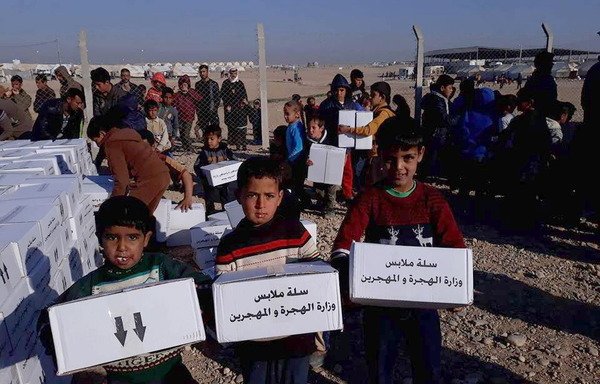 Citizenship through maternity
Solutions to this problem are enshrined in the Iraqi Constitution and legal system, which grant the right of Iraqi citizenship to any child that is born to an Iraqi mother.
"Children of an Iraqi mother whose father is a foreigner ... have the right to obtain citizenship since the Iraqi Constitution and law views the mother as having the right to pass her nationality on to her children," said legal expert Tariq Harb, head of the Legal Culture Association.
"This applies to everyone, even children of foreign ISIS fighters, but the mother has to first register her marriage certificate in the courts and then verify the paternity of her children," he told Diyaruna.
"The wife has the right to turn to the [Iraqi] courts to officially register her marriage license with her ISIS husband (whether Iraqi or foreign), even if the license was issued from an ISIS court."
"In the event that such a document is missing, she can bring in two witnesses that testify in front of a judge the validity of the marriage of the two people on a given date and that they are the parents of the child or children in question and that the father has either died or is missing," Harb said.
"After obtaining a marriage license, the wife has the right to raise a claim of paternity for her child or children and, as a result, pass on to them nationality rights."
"The conditions of such marriages are well understood by the legal system and are met with considerable ease and responsibility," he said.
Courts have ruled in favour of many women from Diyala province in this regard, Harb said.
Diyala civil courts have issued marriage licenses and paternity documents in more than 300 cases between June 2014 and June 2015, Diyaruna learned.
Social, tribal acceptance
Apart from legal challenges, there are societal and psychological issues that must be addressed to ensure children's wellbeing and citizenship rights, activists say.
Many of the marriages between Iraqi women and ISIS men were by force, yet the women and children may face negativity from family or tribal members, said Layla al-Barazanchi, a human rights activist focusing on women and children affected by war.
"This is a complicated issue and is not easy to resolve, but in the end we cannot have these children be without official status documents," she told Diyaruna.
"We are working with the government and UNICEF to contain this issue and we now have a joint project to issue birth certificates for 2,500 children affected by war in western Mosul," said al-Barazanchi, who works at Dar al-Salam Ambassador Network, a humanitarian NGO based in Mosul.
The eight-month project targets children between the ages of one and six years.
For ISIS children, there are two approaches: either to register them under their mother's names or to obtain official marriage licences that include the real names of their fathers, she said.
The project covers only a small number of children without identification documents, but there may be more than 10,000 in Ninawa province alone, according to al-Barazanchi's estimates.
There has yet to be an official detailed estimate on the number of such children.
Embracing undocumented children
Not all children who are not registered with the local authorities were fathered by ISIS members, said Nuha Derwish, who teaches psychology and sociology at Baghdad University.
Some could also be the result of a marriage that was not officially registered and their fathers are either missing or were killed by ISIS or during the war, she said.
There also are children whose fathers abandoned their mothers for various reasons and do not want to acknowledge their paternity, or children whose mothers were forced or chose to abandon them because they were born into forced marriages or as a result of rape at the hands of terrorists, she told Diyaruna.
There are many other cases that the government has to classify and address on a case by case basis, Derwish said, adding that leaving these children in the lurch with no identity documents could have disastrous consequences.
Children denied identity documents will not have access to education, work, marriage and all their civic rights as adults, she said.
"We have to embrace all these children so they do not become easy prey for terrorists, criminals and human traffickers, and this has to be done with a sense of urgency," Derwish said.