The result of Syria's contentious election is not expected before Friday evening (May 28), 48 hours after polls close. But everybody knows that long-term President Bashar al-Assad is all but certain to retain power.
Standing against al-Assad are former state minister Abdallah Salloum Abdallah and Mahmud Merhi, a member of the so-called "tolerated opposition", long dismissed by exiled opposition leaders as an extension of the regime.
The controversial vote is the second election since the start of a decade-long conflict that has killed more than 388,000 people and displaced half the pre-war population, and is widely regarded as a farce.
On the eve of the election, the United States, Britain, France, Germany and Italy dismissed the poll as "neither free nor fair".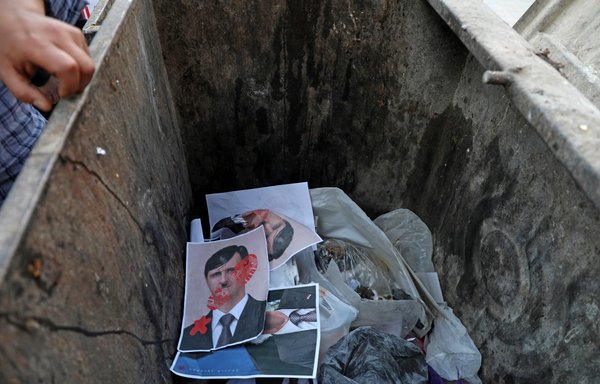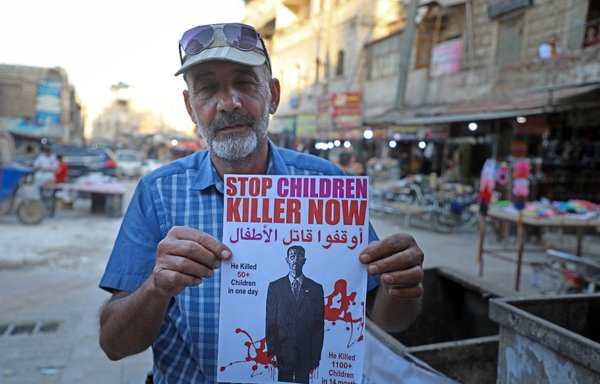 France's Foreign Minister Jean-Yves Le Drian said the vote was undermined by the fact that many Syrians at home and abroad were unable to take part.
"These elections are not real elections," he said.
The UN's Syria envoy, Geir Pedersen, said the polls were being held under the auspices of the current constitution and "not part of the political (transition) process called for in Security Council Resolution 2254" of December 2015.
"What is required is a Syrian-led and -owned political solution, facilitated by the United Nations and backed by constructive international diplomacy," he said.
In opposition-held northwestern Syria, home to three million, hundreds took to the streets to protest the vote on Wednesday, carrying placards that proclaimed: "No legitimacy for al-Assad and his elections."
Protests also broke out in the southern province of Daraa, only parts of which are under the regime's military control, and where some residents called for a boycott.
Kurdish authorities, who have carved out an autonomous zone in the northeast, said they were "not concerned".
Regime pressures overseas voters
Last week, thousands of Syrians abroad with the right paperwork cast early ballots in their embassies, though some claimed they had been pressured into voting.
But those who had fled the country illegally -- and so who could not show an exit stamp in their passport -- were barred from voting.
Several countries that oppose al-Assad blocked the vote altogether, including Turkey and Germany, which host large Syrian refugee populations.
Anas Omran, a Syrian student at Cairo University's faculty of commerce, said he and his family were pressured to participate in the elections and cast their votes at the Syrian embassy in Cairo.
While his father was having unrelated paperwork processed at the embassy, Omran said, one of the employees told him that "participation in the elections is imperative and vital to ensure [the embassy's operations] are not disrupted".
"My family left Syria because it is opposed to the regime, and despite that, we were still forced to go to the embassy on election day to cast our votes out of fear of having our transactions disrupted," he said.
Failure to comply "would expose us to legal accountability in our host country", he said, "especially since there is no evidence that my father was given the message that voting is obligatory".
Al-Assad propped up by Russia, Iran
Some Syrians told Al-Mashareq the elections, which saw huge posters glorifying al-Assad plastered across regime-controlled territory, were merely a means devised by Russia, with Iran's support, to keep al-Assad at the helm.
The Syrian president's survival allows Russia and Iran to continue with their own plans, they said, pointing out that the elections were not free and fair by anyone's standards.
"Only a very small percentage of Syrians who took part in the presidential elections voted based on conviction in the electoral process and alleged democracy," said Sweida resident Majed Mahmoud, who works in the construction industry.
Everyone else knows this is a charade arranged by certain countries and executed by the Syrian security apparatus to keep al-Assad in power, he said, as "he serves Russia's and Iran's aims, aspirations and goals".
Mahmoud said there is no evading voting in the elections "because the security services, in what has become common practice in Syria, will pursue anyone who fails to cast his vote... and the ordinary citizens know that".
Meanwhile, "security services are heavily deployed at polling stations to ensure the voters are voting for Bashar and not casting blank cards", he said.
Per the unwritten rules, "everyone in Syria knows what is required of them during the elections", he said, describing the methods used by the security apparatus as "a dark page of history that cannot be forgotten or overlooked".
Failure to comply with the regime's expectations means "they would, without question, be arrested or attacked, not to mention being subjected to harassment at work and in daily life", he said.
Security forces possess voter rolls
"There is no way to evade the polls, submit a blank card, or disobey orders, because security services have possession of the voter rolls in every region and can control the number of votes cast for the alleged opponents," explained Damascus-area activist Mohammed al-Beik.
"This is true in all areas that were previously under opposition forces' control and were recaptured by the regime," he said.
"No one dares to object, since security services have the lists of returnees, and check the number of voters and number of votes received by each candidate," he added.
Therefore the regime's claim that all regions participated in the electoral process is nothing but "a falsehood in the fullest sense of the word", al-Beik said.