Around one million soldiers, police and other security personnel were voting across Iraq on Thursday (May 10th) in the first national elections since the country declared victory over the "Islamic State of Iraq and Syria" (ISIS).
Servicemen in uniform queued up to cast their ballots in special elections two days before the rest of the country heads to the polls for a parliamentary election Saturday, AFP reported.
Some 492 centres opened their doors to military voters from 7 a.m. to 6 p.m. on Thursday across Iraq, said Iraq's High Electoral Commission (IHEC) member Hazem al-Rudeini.
More than 940,000 members of the police, army and the Peshmerga can vote in the special elections, he told Diyaruna.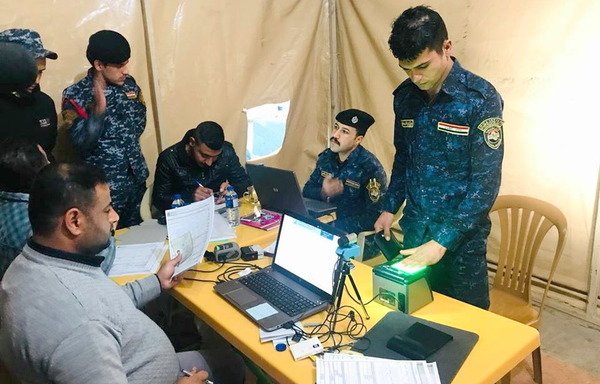 Iraqi voters living abroad are also set to cast their ballots Thursday and Friday, he said.
The IHEC has opened about 70 electoral centres in 21 countries to allow more than 850,000 registered Iraqi voters to vote.
The commission is on high alert to ensure the success of the electoral process at home and abroad, al-Rudeini said. "We have completed all logistical and technical preparations to ensure that the voting runs smoothly."
"An electronic system has been fully rolled out for the first time to provide the highest degree of integrity, transparency and credibility," he said.
Electronic ballot cards containing each voter's picture and fingerprint, as well as their personal data, will ensure that no manipulation takes place, he said.
"There will also be a mechanism of counting, sorting and verifying ballot papers by electronic means that will allow us to obtain more accurate results and prevent fraud," he added.
Some 245,000 employees have been trained by the commission on organising and managing the special and public vote, al-Rudeini said.
These legislative elections are the fourth since 2003 and the first after the victory over ISIS.
More than 7,000 candidates are running in 320 electoral lists, political entities and alliances.
Hope for change
In the war-ravaged former ISIS stronghold of Mosul, retaken in July after months of street-to-street combat, policeman Renan Khaled said he wanted reconstruction to be a main priority.
"I am voting for the future of my family, so that good people occupy the right positions," said Khaled, 25, wearing a blue police uniform.
At a school in central Baghdad that had been turned into a polling station, police and presidential guard members waited to make their choice.
Security was tight after ISIS threats, and voters were frisked several times as they entered to cast their ballots.
Police special forces officer Ahmed Qassem told AFP that he voted for the candidate who "will help the poor and fight corruption".
"The most important thing is that it is the people who are choosing their representatives and who will become prime minister," the 38-year-old said.
In the southern city of Basra, police and soldiers filed out of polling stations with indelible ink on their fingers to show they had voted.
Traffic policeman Hassan Mohammed said he wanted "change" and hoped for a "new government that will bring us a better future".