Recent reports in Iraqi media indicate that top Iranian officials, including Supreme Leader Ali Khamenei, are angry at their proxy militias in Iraq for the theft of vast sums of money, numerous episodes of deadly infighting, and for favouring their personal interests over Tehran's.
Khamenei last month, after receiving an update report from Islamic Revolutionary Guard Corps Quds Force (IRGC-QF) commander Esmail Qaani, reportedly expressed his displeasure with the militias after the disappearance of $4 billion generated via arms and drug smuggling activities over the past six months.
The supreme leader reportedly called them "thieves".
"These militias took in enormous sums of money -- estimated to be in the billions of dollars -- in past years from illicit activities," said analyst and journalist Ziyad al-Sinjari.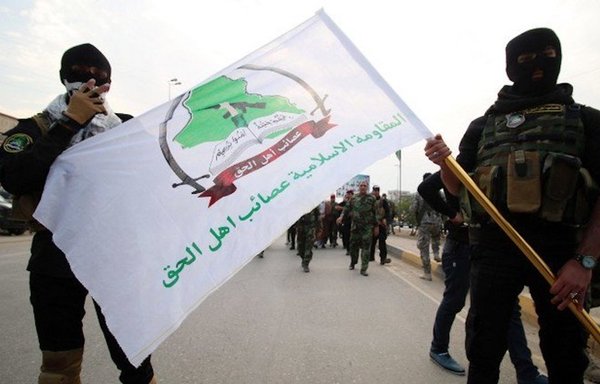 These include the smuggling of drugs, weapons and oil, the imposition and collection of fees, tributes, taxes and commissions and "engagement in financial and administrative corruption on a large scale", he said.
Widescale corruption
The militias also receive funding from the Iraqi treasury, by virtue of their affiliation with the Popular Mobilisation Forces (PMF), which was allocated a budget of $2.6 billion last year, al-Sinjari said.
Calls have been mounting, including by Iraq's top Shia cleric Ali al-Sistani, to bring PMF fighters under the fold of Iraq's military and limit the influence of factions loyal to Iran.
"Half of the elements of the PMF, who number more than 120,000, are in reality only names on paper, and their monthly salaries go to the accounts of the militia leaders," he said.
Militia leaders are getting richer all the time, al-Sinjari said.
"Tehran is today deeply concerned that these proxies are favouring their personal and factional interests over Iran's interests and agendas," he said.
The militias "are consumed with increasing their wealth", he said, and are keeping the lion's share of the income they generate for themselves, rather than handing it over to the Islamic Republic.
Quds Force commander Qaani recently met with militia leaders in Baghdad, al-Sinjari noted, carrying messages of reprimand and warnings from Khamenei regarding their failure to obey orders and fulfill their financial obligation to pay Iran.
Many observers believe that Iran's grip on its Iraqi militias was severely shaken by the death of Qaani's predecessor, Qassem Soleimani, who held great sway over them.
Despite his frequent visits and meetings with the militias, Qaani has not succeeded in asserting himself over them.
Tightening grip on militias
Iraqi tribal leader Sheikh Thaer al-Bayati said Iran today "faces a difficult test, namely how to re-tame the militias and tighten its grip on them, as it was in Soleimani's time".
"These factions act as mafias and gangs that compete to the point of [death] to acquire areas of influence and privileges and engage in theft to maximise their financial resources and hoard wealth for themselves," he said.
"There are concerns that things might get out of control," he added.
In recent weeks, there have been reciprocal killings of the leaders and fighters of Iran-aligned Iraqi militias, in disputes centered on money and influence.
Most notably, Mohammed Rahim al-Shammari, a senior figure in the Asaib Ahl al-Haq militia, led by Qais al-Khazaali, was slain February 16 in Baghdad's al-Shula district by unidentified gunmen using weapons with silencers.
Asaib Ahl al-Haq supporters accused rival militias, without naming them, of being responsible for the assassinations.
Kataib Hizbullah also announced on its social media account the death, on February 20, of one of its leaders, Ammar Abdul Hussein Hadi al-Aboudi, aka "Ammar Abu Yasser al-Muallem".
Al-Aboudi was killed in the Jurf al-Sakhr area, south of Baghdad, when a sticky bomb attached to his car exploded. He had served as military and field commander of Kataib Hizbullah's elite forces and as 47th Regiment commander.
The 47th Regiment is a militia affiliated with the IRGC.
"The conflicts and liquidations among the militias are in full swing," al-Bayati said.
Iran is considering developing a plan to restructure its militias, bring them back in line, and remove leaders and groups it determines are no longer loyal to the Iranian project and are looking only to enrich themselves, he said.