Despite concerted efforts by Iran-aligned Iraqi militias to keep their internecine disagreements under wraps and feign a strong and united image, their fierce disputes and rivalry have exploded out into the open.
The resounding defeat that political parties representing Iran-backed groups suffered in the Iraqi legislative elections of October 10 is heightening the sense of unease and combativeness among them, even as they lose trust in each other, analysts said.
This sense of malaise has been perpetuated by an escalation of assassinations of prominent militia leaders, both those affiliated with the Iranian axis and those who are not.
Muslim Idan (Abu al-Reesh), a leader in the Sadrist movement, was assassinated on January 9 in the southern province of Maysan.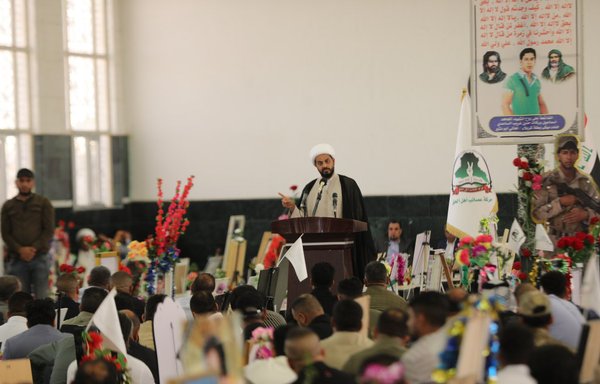 On January 17, Asaib Ahl al-Haq element Uday al-Shammari was assassinated, and on February 2, Hussam al-Olyawi, a leader in the Iran-backed militia, was killed by unidentified assailants in Maysan province.
Hussam is the brother of Asaib Ahl al-Haq leaders Wissam and Issam al-Olyawi, who were assassinated in an attack by unidentified gunmen on the militia's Amara headquarters during the 2019 protests.
Asaib Ahl al-Haq leader Qais al-Khazaali blamed the assassination of the three brothers on gunmen belonging to Saraya al-Salam, the armed group affiliated with the Sadrist movement.
The Sadrist bloc -- the biggest winner in the October elections -- is led by Shia cleric Muqtada al-Sadr, who has been critical of Iran.
In a post on Twitter, al-Khazaali called on al-Sadr to "disavow" the accused gunmen, warning of what he referred to as the incitement of sedition.
Prior to these incidents, on January 6, armed assailants attacked the house of a Kataib Hizbullah leader, Ahmed Abdul Muttalib, south of Baghdad, leaving at least four members of his family dead.
In a post on Twitter, the Fatemiyoun Electronic Squad -- a smokescreen group that has carried out cyberattacks on behalf of Kataib Hizbullah -- said Abdul Muttalib had been wounded in the attack.
The group claimed he was in critical condition at the Yarmouk Hospital, with other accounts subsequently reporting that he had died.
Election losers turn to violence
The assassinations are part of "the general turmoil in the security and political situation", researcher and political analyst Kazem Yawar told Al-Mashareq.
Iran-aligned militia groups, which call themselves the "resistance factions", appear on the surface to be a united front against rival parties, notably the Sadrist movement, he said.
But they are wracked by rivalry, a crisis of trust and internal disputes.
According to Yawar, the assassinations may be part of the vicious conflicts among these groups, which are usually covered up or even denied, in order to project an image of cohesion among Iran's allies.
He said signs of division and schisms had emerged long before the elections.
Most of the friction centres on two major Iran-affiliated groups -- Kataib Hizbullah and Asaib Ahl al-Haq, who bear hostility towards each other.
Each has accused the other of appropriating the leadership and funds of the Iraqi paramilitary umbrella group, the Popular Mobilisation Forces (PMF), and of monopolising positions, privileges and decisions to expand their influence.
Last year, at least four leaders of these two groups were assassinated by unknown assailants: Hassan Karim (Asif) and Ammar Abdul-Hussein al-Aboudi (Abu Yasser al-Moallem) of Kataib Hizbullah; and Hussain al-Khafaji and Mohammed Rahim al-Shammari of Asaib Ahl al-Haq.
Others were seriously wounded in failed assassination attempts, including Hadi Odeh Abdul Jalil al-Eidani (Abu Hassan al-Bawi), a Kataib Hizbullah leader.
Self-interest
Tribal leader Thaer al-Bayati said the militia leaders today do not believe in the Iranian project as much as they look out for their own interests.
They are willing to ignite a bloody conflict in the service of their own self-interests, he said, noting that this "has become known to everyone".
"The Iranian militias, which are basically mafias, are fighting among themselves over spoils to the point of resorting to physical liquidation, and now threaten by force the sovereignty of the state," he said.
These groups have been "engaging in violence and terrorism that victimise innocent civilians just because they lost the elections and do not want to admit defeat", he said.
The Iraqi public rejects the militias' "illegal and anarchic behaviour, which has grown more hostile and has defied even the Iranian grip", he said.
These armed groups have moved farther away from Iran after the death of Islamic Revolutionary Guard Corps (IRGC) Quds Force commander Qassem Soleimani, he said, partly as a result of Soleimani successor Esmail Qaani's "weak and ineffective" leadership.
"The war of wills among the militias is a reflection of the deep internal conflict within the institution of governance and influence in Iran," he said.
It is reflective of struggles between the leadership of the IRGC and the Iranian Ministry of Intelligence, he said.