Iran-backed militias have a long history of causing trouble in Iraq, where they have undermined the authority of the government and security forces and attacked or intimidated civilians who have spoken out against Iran's influence.
In response to these violations of Iraqi sovereignty, the government of Prime Minister Mustafa Kadhemi, with the support of top Shia cleric Ali al-Sistani, has been taking steps to limit the influence of militias allied with Iran's Islamic Revolutionary Guard Corps (IRGC).
In addition to prominent groups like Kataib Hizbullah, the Badr Organisation and Asaib Ahl al-Haq, a shadowy collection of newly formed front groups -- the so-called "smokescreen militias" -- also operate at the behest of Iran.
These groups actively engage in direct armed conflict with coalition forces battling the Islamic State of Iraq and Syria (ISIS) -- such as the March 3 rocket attack on Ain al-Asad base and the February 15 attack on a military complex in Erbil airport -- and also make life miserable for regular Iraqi citizens.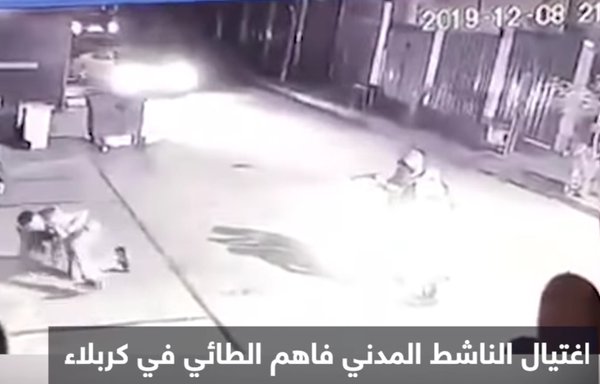 Activists threatened, assassinated
The list of Iraqi activists attacked or killed for expressing anti-Iran views is a long one -- and growing.
On February 7, activist Ahmed al-Helou survived an assassination attempt by individuals he accused of belonging to the Iran-aligned Saraya al-Salam militia, in Babel province.
Al-Helou had previously revealed he had been subjected to constant threats of death, prosecution and kidnapping because of his positions in support of the demonstrations.
On the evening of December 15, activist Salah al-Iraqi was shot five times in the chest in east Baghdad by masked gunmen in a civilian vehicle.
A father of five, al-Iraqi was well-known for his active role in the protests, and was a harsh critic of Iran-backed militias in Iraq.
On December 2, activist and blogger Mustafa al-Jabri was assassinated in Maysan province in southern Iraq by unknown gunmen. Local media outlets have accused pro-Iran militias of the attack.
On November 25, two activists -- Omar Taayi and Akram Azab -- managed to survive an assassination attempt in Talibia area, east of Baghdad, when unknown armed men opened fire at them. Azab was hospitalized.
It was not clear who had carried out the attack, but Talibia is a stronghold of pro-Iran militias.
And on November 1, unidentified gunmen killed Abdul Nasser al-Tarfi al-Taie, a tribal leader, in front of his house in al-Amara, southern Iraq.
Al-Taie was known as a major supporter of the demonstrations and a harsh critic of IRGC proxies in Iraq.
Near the beginning of the protest movement, prominent activist Fahim al-Taie was killed in December 2019 in Karbala, as he was returning from the protests.
Video footage posted online shows al-Taie getting off a motorcycle in front of the Ansar Hotel in al-Baroudi, when another motorcycle pulls up behind it. A gunman riding on the back of the motorcycle shoots him, before pulling away.
Al-Taie doubles over and staggers into the building.
Sources said al-Taie had accused unspecified parties before his death of being involved in attempts to assassinate Iraqi activists.
Basra network members detained
Iraqi security forces are making gains against these Iran-backed groups, one of the latest examples of such occurred on February 14 when Iraqi intelligence forces arrested four members of a 16-person network in the southern city of Basra who were suspected of killing protesters and outspoken journalists.
Iraqi intelligence, still working to identify the remaining members of the network, did not comment on the affiliations of the detainees, who confessed to the killing of Iraqi journalist Ahmad Abdessamad and other activists.
Abdessamad, who had been vocally supportive of the protest movement that erupted in October 2019, was killed in Basra in January 2020, alongside his cameraman Safaa Ghali, as they were parked in a car near a police station.
Top government advisors have admitted, however, that their intelligence investigations found the perpetrators of the bloodshed hailed from powerful paramilitary groups.
"We know who killed Hisham, for example, but we cannot go after them," one advisor said, referring to renowned extremism expert Hisham al-Hashemi.
Al-Hashemi was shot outside his home in east Baghdad on July 6 by three gunmen on two motorcycles as he was getting into his car, and later died of his wounds.
He was an authoritative voice on extremist factions, including the "Islamic State of Iraq and Syria" (ISIS), and was frequently consulted on domestic Iraqi politics and Iran-backed Iraqi militias.
Following the attack, activists shared social media messages, in which al-Hashemi confirmed that he had received death threats from Kataib Hizbullah.
Terrorist designation for militiaman
The US State Department on January 13 listed the former head of Kataib Hizbullah, Abdul Aziz al-Mohammadawi, or "Abu Fadak", as a specially designated global terrorist.
Kataib Hizbullah has claimed responsibility for numerous attacks in Iraq, including improvised explosive device (IED) attacks, indirect fire attacks, rocket-propelled grenade attacks and sniper operations, the State Department said.
It also has been involved in recent and widespread theft of Iraqi state resources and the killing, abduction and torture of peaceful protesters and activists in Iraq.
Al-Mohammadawi had been working in conjunction with the IRGC's Quds Force to reshape official Iraqi state security institutions away from their true purpose of defending the Iraqi state and fighting ISIS, the State Department said.
It noted that Iran-backed militias have been involved in sectarian violence in Iraq, including the abductions of hundreds of men from areas liberated from ISIS control, many of whom remain missing.