A new documentary produced by the Iranian regime portrays Supreme Leader Ali Khamenei as a friendly, approachable man of the people, yet fails to shed light on the leader's long track record of divisiveness and controversy.
The series, which is called "Informal", is produced by Mehr Film and Khamenei's office, and has aired on domestic and satellite channels of the Islamic Republic of Iran Broadcasting (IRIB), and has been promoted by websites affiliated with the Islamic Revolutionary Guard Corps (IRGC).
Producers of the series say it shows "informal and intimate" meetings that Khamenei has held weekly on Thursdays since 2016 with cultural activists, artists, scientists, university students and average citizens.
The first part of the docuseries focuses on Khamenei's meetings with "Holy Defence" filmmakers -- a term used for those who make films about the 1980-1988 Iran-Iraq War.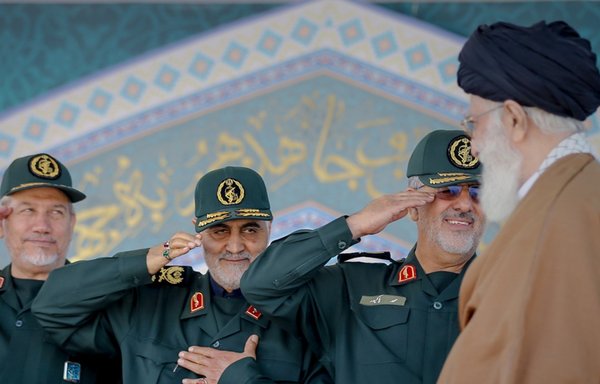 The second part is about his visits and conversations with all other groups, including members of the public.
In the films, Khamenei, who has ruled over Iran with an iron fist for more than three decades, is seen dealing with ordinary Iranians, but critics say it is clear the series is highly choreographed.
In contrast to how he is being portrayed, Khamenei is a leader who relies heavily on security forces, such as the IRGC, to validate his power, continue his rule, crush domestic dissent, and export proxy wars to the region and beyond.
Veneer of truth
For all intents and purposes, "Informal" ignores the candid reality it promotes, staying on-par with the authoritarian approach of all made-to-order regime products.
"Informal" producers have tactfully selected instances of Khamenei's conversations during which he appears soft-spoken. In some cases, his attempts at humour soften his tone, while in other more recent scenes, he simply seems frail or unwell.
A scene in the second part of the series shows the leader being praised by a historian for "mentioning Iranian history and the Shahnameh". In reaction, Khamenei shows surprise and says, "Of course!", as though to say he has always read and admired ancient Iranian history and Ferdowsi's Shahmaneh.
In reality, in the years following the Islamic Revolution, verses of Shahnameh (the renowned "Book of Kings" by Iranian poet Ferdowsi) were among the first items censored in Iranian textbooks. The main reason for the ban is Ferdowsi's well-documented, tangible effort through poetry to keep the Persian language alive in light of the Islamic overtaking of Iran.
The Islamic Republic, and Khamenei, who is known for his devotion to literature and poetry, have always demonstrated a preference to brush aside the Persian language, promote the Arabic language, and select Persian literature combined with or influenced by Arabic as teaching material.
An example of this can be seen in one of the documentaries: while Khamenei listens to a poetry recitation, he chimes in while a poet recites a Saadi Shirazi verse which is half-Arabic. The scene clearly tries to show his literature-loving side.
Cherry-picked praise
The series also shows Khamenei receiving artists, as always, in modest surroundings.
For viewers who are familiar with Iran's famous figures, it is clear that the secular celebrities who have no apparent ties to the regime are shown in close-ups, but their remarks are not filmed.
Testimonials and commentary are reserved for figures close to the regime or who have been commissioned to work on films or television series for large amounts of money.
In scenes showing visitors' comments or questions, harsher criticism is cut in editing, while very light rebuke is allowed to show the supreme leader's patience and kindness. Complimentary remarks are included at length.
In one scene, a university student says he would like to "criticise" the leader because he is "not hopeful about the future in Iran".
In response, Khamenei invites him to gain hope and asks him to come closer to him. He then hugs and kisses the young man's face, saying, "Isn't it a pity that you lost hope? You are young; you should always be hopeful."
The student walks back to his seat, smiling.
In another scene in the second documentary, a poet says he attended the meeting "with prejudgement" but was proven wrong.
Rather than portraying real, concrete conversations, the film includes artists who individually appear on camera for "confessionals".
The majority of these people are either unsuccessful, hardly famous, or known to be affiliated with the regime. Many acclaimed independent artists boycott the IRIB or at least refuse to appear in its productions.
Reliance on military power
Supporters of Iran's leader call him "leader of the Muslims", an honorific title that is meant to portray him as a man who promotes unity in the Muslim world.
However, a look at his time in office shows that he has been a divisive figure in Iran, often using the IRGC to repress his detractors.
Despite Khamenei's boasting about Shia-Sunni unity, the Iranian Sunni minority community is systemically suppressed, an issue Sunni leaders have occasionally been vocal about.
A case in point is Zahedan's Sunni prayer leader Molavi Abdolhamid, who complained about "Sunnis being second- and third-class citizens" in a letter to Khamenei on January 5.
Whether the opposition is from within the clerical ranks or the Iranian public, Khamenei has systematically sidelined and repressed his critics, often by using the IRGC, such as the 2019 crackdown on unarmed protesters in Tehran and other cities during mass protests against gasoline price hikes.
He maintains close ties with the IRGC, strongly supports it, allocates an increasingly significant budget to it year after year, and influences all its decisions, strategies and actions.
Outside of Iran, Khamenei has used the IRGC's Quds Force to support Shia militant groups in support of Iran's expansionist agenda.
Slain Quds Force commander Qassem Soleimani was seen as very powerful in Iran by virtue of his close and trusted relationship with the Khamenei, and was able to parlay this influence into building a vast network in the region of pro-Tehran agents who followed his orders.
The IRGC has carried out some 360 terror attacks in 40 countries, most of them in the Middle East, via its proxy groups.
In recent months, IRGC-backed groups have been responsible for a number of attacks across the region.
On November 22, for instance, the Iran-backed Houthis (Ansarallah) carried out a missile strike on an Aramco fuel storage facility in Jedda, Saudi Arabia.
In Iraq, Kataib Hizbullah and other hardline Iran-aligned factions have been mounting attacks on international coalition troops, Iraqi troops and diplomatic buildings in the Green Zone, including a December 20 attack on the US embassy in Baghdad.
Since October 2019, nearly 90 deadly rocket attacks and roadside bombs have targeted foreign embassies, troops and other installations across Iraq.