The Islamic Revolutionary Guard Corps (IRGC) has been aggressively expanding its presence in eastern Syria, creating an enclave some refer to as "Little Iran", where it has been seizing property and recruiting local youth into its militias.
Several new militias have emerged in the area, which extends from the Iraqi border to Badiyat Tadmor (Palmyra desert) and the edges of Homs and Hama provinces, bringing thousands of fighters of various nationalities to the area.
The IRGC and allied militias have established a presence along the Euphrates River, stretching from the border town of Albu Kamal to al-Mayadeen and Deir Ezzor city, as far as Aleppo province, as well as across the desert to Homs.
It has brought in affiliated militias comprised of foreign fighters, recruited local youth into new Syrian affiliates, and seized private property in order to accommodate these new arrivals, kicking off a process of demographic change.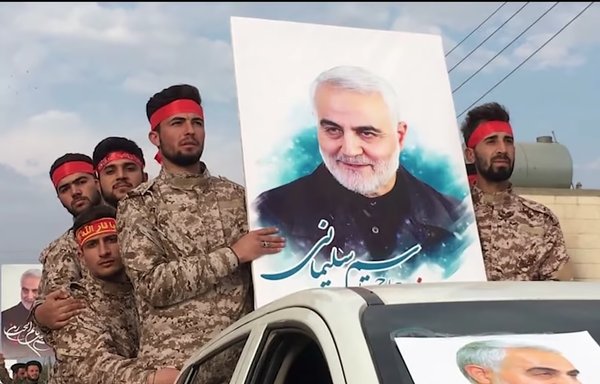 On Sunday (March 14), according to the Syrian Observatory for Human Rights, the residents of nearly 50 houses in al-Mayadeen received eviction orders from an IRGC-aligned group purportedly acting on behalf of the Syrian regime.
A day earlier, the Observatory said, IRGC-backed militia Kataib Abu al-Fadl al-Abbas seized a gas station on the outskirts of al-Mayadeen city under the orders of a militia leader.
Heavy IRGC presence
There are a number of reasons why the IRGC has been focusing on the widespread deployment of affiliated militias in eastern Syria, said Abdul Nabi Bakkar, a political researcher who specialises in IRGC affairs.
The IRGC has chosen to expand across a wide geographical area to facilitate the constant movement of its affiliated militias, personnel and arms between Iraq and Syria, he said, and to secure the route between Tehran and Beirut.
Another motive behind the IRGC presence in this area is its reservoir of natural resources, including petroleum, phosphorus and other minerals, Bakkar said.
According to Deir Ezzor activist Jamil al-Abed, most IRGC-affiliated militias have a presence in eastern Syria.
Of these, Lebanese Hizbullah is the most powerful, he said, followed by the Fatemiyoun Division, comprised of Afghan fighters, which has become the IRGC's spearhead in Syria.
Other groups include the Zainabiyoun Brigade, a militia comprised of Pakistani fighters, as well as Kataib Hizbullah, Asaib Ahl al-Haq, and many others.
Local recruitment
The IRGC also has established a number of local militias in eastern Syria, comprised of Syrian youth, said al-Abed.
These include Brigade 313, Sayyidah Ruqayah, Liwa al-Baqir, al-Hashemiyoun, Kataib al-Zahra, Katibat al-Abbas, Quwat al-Imam al-Ridha, Fawj al-Imam al-Hujjah, Liwa al-Imam Zain al-Abidin, Hashd al-Furat and al-Jazeera, Liwa Suqour al-Sahra and the 47th Regiment, he said.
The IRGC has turned this part of eastern Syria into a vast military camp and depot for all types of ammunition and missiles, al-Abed noted.
According to several media outlets, large quantities of weapons and missiles entered Syria from the Iraqi side of the border, and were distributed to depots controlled by Iran-backed Iraqi militias and the Zainabiyoun Brigade.
According to some estimates, there are more than 25,000 fighters affiliated with the IRGC in eastern Syria, Syrian journalist Mohammed al-Abdullah said.
The IRGC entices new recruits to join the ranks of the militias by offering them money, weapons and protection for tribe members who face terror threats or pressure from the Syrian regime, such as mandatory military service, he said.
The new recruits include underage youth, he added.
The recruitment of tribesmen into the ranks of IRGC-aligned militias is happening in tandem with the widespread promotion of the doctrine of Wilayat al-Faqih, which calls for allegiance to Iran's supreme leader, said al-Abdullah.