Recent US air strikes on Iran-allied militias near the Iraqi-Syrian border have shone a spotlight on how Iran's Islamic Revolutionary Guard Corps (IRGC) has been undermining Iraqi sovereignty for decades.
In recent years, the IRGC has sought to further Iran's influence in Iraq and the region by establishing and funding militias. At first, these militias had a veneer of legitimacy, as they were battling the "Islamic State of Iraq and Syria" (ISIS).
But since the military defeat of ISIS in late 2017, Iran-aligned militias have remained behind in many liberated areas, gradually eroding the Iraqi government's control over armed conflict within its own borders.
Much of their attention has been focused on shoring up and consolidating a presence in areas of strategic interest -- particularly around the Anbar province border town of al-Qaim -- a key crossing with Syria.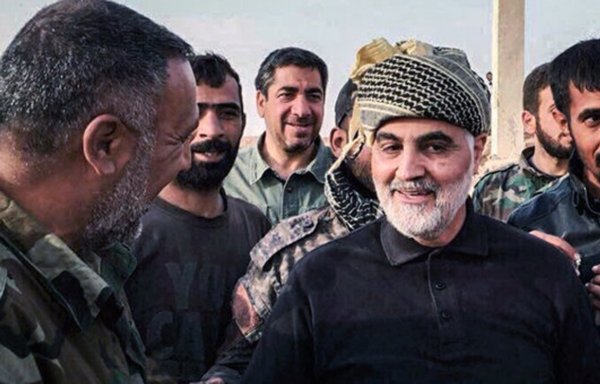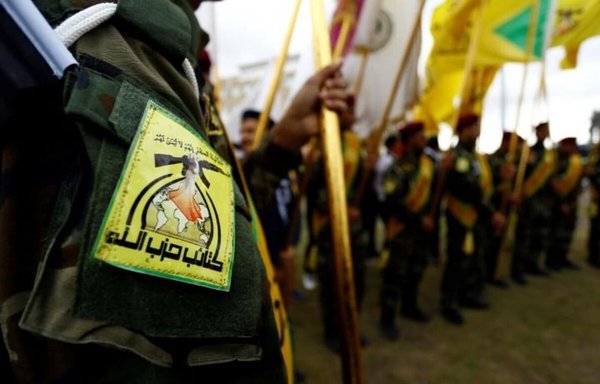 The border area is a key segment of the route that pro-Iran armed groups use to move fighters, weapons and even consumer goods between Iraq and Syria. It is one of their most prized locations.
While Iraqi forces are solely responsible for ensuring border security, irregular armed factions aligned with Iran have been determined to retain a foothold.
Since the territorial defeat of ISIS, militias linked to Iran have sought to expand their presence in the border region by establishing bases and barracks in al-Qaim and on the Syrian side of the border.
According to Iraqi military expert Jalil Khalaf Shwayel, the presence of any group that does not answer to the state and works to further foreign agendas is a "major threat that impedes efforts to control and secure borders".
IRGC-backed militias have become a menace to the local population in al-Qaim, and have even issued threats against the Iraqi military.
Militiamen in al-Qaim area have been preventing farmers who were driven from their land by ISIS from returning and reclaiming their property -- years after ISIS was driven from the area.
Much of this rural area remains under their influence -- that of Kataib Hizbullah in particular -- and they have turned it into a sealed off military zone.
In October, Iran-backed militias stole vital equipment and supplies from schools and government buildings in the area. The raids were carried out by armed militiamen positioned on the outskirts of al-Qaim, al-Rummana and Husaybah.
15,000 proxy fighters in eastern Syria
Iran has sought to consolidate its influence on the Syrian side of the border as well, in the areas around the border town of Albu Kamal, Deir Ezzor city, al-Mayadeen and in the eastern desert (Badiya).
To this end, the IRGC and its allies, including Lebanese Hizbullah and various militias, have deployed in the region.
Around 15,000 proxy fighters from Iraq, Afghanistan and Pakistan are deployed in the eastern regions, extending south of the Euphrates river from rural al-Raqa to Albu Kamal in Deir Ezzor province.
Residents of these areas have been pushed out of their homes and off their land by the militias, either through enticement or intimidation, al-Hasakeh political committee official Lt. Col. Hisham al-Mustafa has said.
Militias are using similar tactics to recruit informants from the local population, he said, using pressure, coercion or money to gain their co-operation.
Those pro-Iran groups have established bases, outposts and arms depots as part of their deployment in eastern Syria.
They also have stakes in education and healthcare in the region.
In 2019, an Iran-affiliated organisation restored 16 schools in Deir Ezzor, Syria researcher Nawar Oliver said in a November report for the Atlantic Council think tank, in an effort to spread Iranian influence.
"Iranian control is no longer limited to military and security presence," Oliver said.
Omar Abu Layla, an activist who heads the DeirEzzor24 media platform, says pro-Iran groups are also trying to disseminate their ideology through so-called cultural centres.
Hitting back
The militias' bases, outposts and arms depots on the Syria-Iraq border have been regularly hit by air strikes.
On Thursday night (February 25), US strikes on the area near Albu Kamal killed 22 fighters and destroyed "multiple facilities" linked to the militias, in response to recent attacks against US and coalition personnel in Iraq.
On January 13, some 15 militia bases and warehouses affiliated with the IRGC in Albu Kamal, al-Mayadeen and in the vicinity of Deir Ezzor city, were targeted in airstrikes, reportedly carried out by Israel.
These were the most intensive attacks on the area in nearly two years, causing the highest death toll since June 2018, with reports that 57 militia members and Syrian regime soldiers had been killed.
Abu Layla of DeirEzzor24 said the warehouses had contained a shipment of missiles and other weapons brought to Deir Ezzor by the Fatemiyoun Division for distribution among Iran-backed militias.
Separately, a Syrian military source on November 29 confirmed the death, in an unidentified drone strike, of senior IRGC commander known as Muslim Shahdan on the Iraq-Syria border.
The strike took place inside Syrian borders, as his convoy was passing the al-Qaim-Albu Kamal border crossing, coming from Iraq.
Roots in irregular warfare
The IRGC's Quds Force (IRGC-QF) planted its roots in irregular warfare in the early 1980s, amid the Iran-Iraq war which ended in 1988.
Valuing ideology over military expertise, the IRGC was formed to circumvent the professionally trained military -- Iran's Armed Forces, known as Artesh -- which revolutionaries saw as disloyal and possibly sympathetic to the West.
Iran's military doctrine changed after the Artesh started performing poorly early on in the war with Iraq.
The IRGC implemented a strategy of working with both state and non-state actors, thus aiding Shia militant groups in Iraq during the war.
One of the most prominent Iraqi Shia groups trained by Iran was the Badr Brigades, the armed wing of Mohammad-Baqir Hakim's Supreme Council for the Islamic Revolution in Iraq (SCIRI).
Some 5,000 foreign Shia militants wearing IRGC uniforms were killed in the Iran-Iraq war.
The Iranian regime started propping up the IRGC in the 1980s, based on its clear preference for the IRGC's nonconventional military approach.
This was shown in the regime's allocation of a much larger budget to the IRGC compared to the Artesh, and granting more military decision-making authority to the IRGC, rendering the Artesh virtually powerless.