Iraqis have denounced calls made on social media to replace the current system of governance in Iraq with Wilayat al-Faqih, which allows Iran's supreme leader Ali Khamenei to be final arbiter on all decisions.
Eariler in January, pro-Islamic Republic social media activists launched the hashtag #Wilayat_al-Faqih_is_our_demand on Twitter. This was coupled with others previously used, including #Thank_you_Iran and #Wilayat_al-Faqih_State.
The messages met with angry reactions and sarcastic comments from Iraqis on social media. Many condemned what they described as attempts to "promote the Iranian regime's initiative" by "the online army of Iran-backed militias".
"It is a failed marketing ploy by a fascist regime that is known to Iraqis and all the peoples of the region as a regime that is only concerned about its own interests and seeks to expand and dominate using all means," said Baghdad resident Abu Ahmed.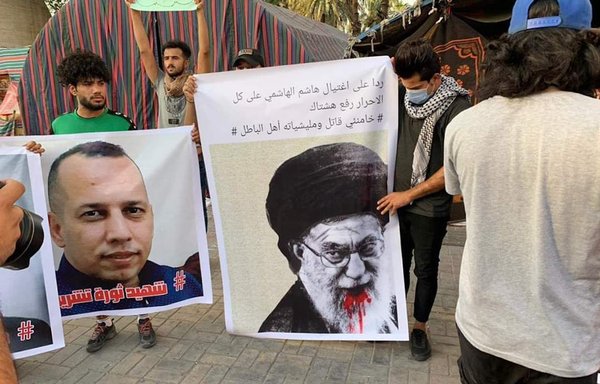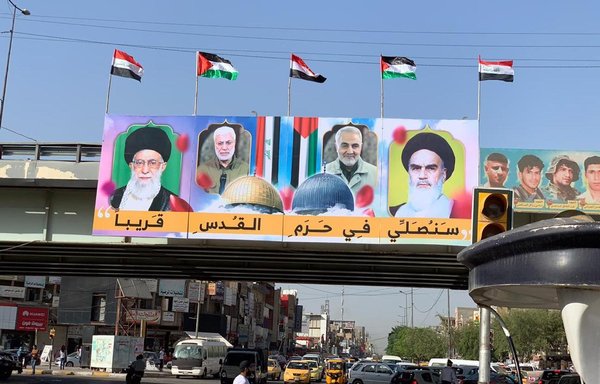 He said these online accounts are attempting to polish the image of the oppressive Iranian regime and portray it as rational model of governance when in reality, it treats even its own people with brutality and violence.
This has included a ruthless crackdown on popular demonstrations that erupted nationwide in November 2019 after a sudden hike in fuel prices that left at least 304 people dead, and the suppression of internal dissent.
Exporting the Islamic Revolution
Qassem al-Shammari of Dhi Qar province said the purpose of such calls on social media is "to mislead and manipulate religious sentiments to give a realistic dimension to the notion of the establishment of Wilayat al-Faqih in Iraq".
But it is very unlikely that such propaganda would be accepted by the Iraqi public, al-Shammari said, as they are clearly expressing resentment towards Iranian interference and influence.
This was made clear during the widespread popular demonstrations across Iraq.
Wilayat al-Faqih was established in Iran following the Islamic revolution that overthrew the monarchy, ousting Mohammad-Reza Shah Pahlavi in 1979.
It is based on the principle of entire obedience to the supreme religious guide, the Wali al-Faqih, who has absolute powers.
Rouhollah Khomeini, the founder of the Islamic Republic, was the first religious authority figure to hold the position in Iran. After his death in 1989, he was succeeded by Ali Khamenei, who remains Iran's supreme leader to this day.
"After the success of its revolution, the Iranian regime set the strategic goal of turning regional governments into regimes that follow the 'Wali al-Faqih' and adhere to his orders," said political expert Alaa al-Nashou.
The regime embarked on its initiative of "exporting the Islamic revolution" based on expansion beyond Iran's borders, al-Nashou said.
Iran's ambitions of implementing expansionist policies in the region is demonstrated by the fact that Iran supplies its affiliated militias with weapons and money, which distorts the region's stability and security, he said.
"Iran's cronies will not succeed," he said, adding that "there is a national awareness that was spawned by the recent demonstrations in support of Iraq's sovereignty and independence".
Iranian proxies in Iraq
Al-Muwatiniyoun party leader Ghaith al-Tamimi dismissed the significance of demands for the implementation of the Wilayat al-Faqih system in Iraq, saying they are made by "junior" members of Iran-linked militias.
He said such calls are "part of the militias' effort to show their loyalty and dedication to the Iranian regime while exerting moral influence on the Iraqi public, which is looking to build its country and save it from all interference".
He said the notion of a regime affiliated with, or similar to, the Iranian regime is not seriously put forth for consideration, not even by the militias themselves, because they know that it will not happen.
If it does, he said, it would spark divisions and a civil war in which everybody loses.
Al-Tamimi said Iran's policy focuses on continuing "to support its proxies to disrupt security in Iraq and create an opportunity to intervene in all its affairs, small and large".
"This is what Iraqis are resisting today with utmost courage, while affirming their love and devotion to their homeland and their support for its sovereignty and independence," he said.