The Iraqi militia Kataib Hizbullah threatens the security of Iraqis and the stability of their country and its strategic interests, experts told Diyaruna.
Since the assassination of top Iranian general Qassem Soleimani, the Iran-backed Kataib Hizbullah and its affiliates, notably Usbat al-Thaereen and Ashab al-Kahaf, have repeatedly targeted Baghdad's Green Zone with rockets.
The attacks have fueled public resentment and anger towards Kataib Hizbullah and Usbat al-Thaereen in the past several months.
Baghdad resident Abu Wissam told Diyaruna the militia and its affiliates are "criminals who target innocent lives and spread destruction".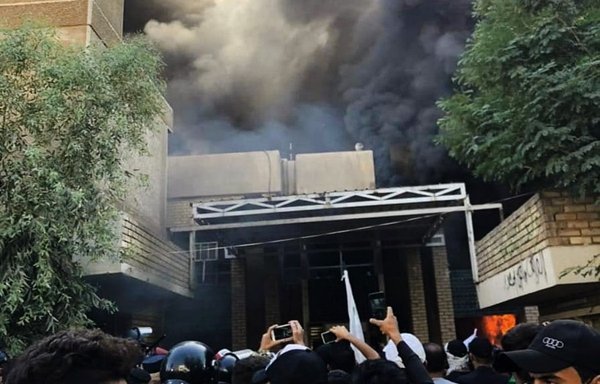 He said they serve Iran's Islamic Revolutionary Guard Corps (IRGC) rather than Iraq, and their attacks on civilians attest to their brutality.
The attacks on Baghdad's Green Zone, in which civilians and soldiers were killed, targeted the airport and military headquarters.
Seven members of a family were killed when two rockets landed on their home in the agricultural town of Radwaniyah near the airport in September.
Anger at IRGC-backed militias
Iraqis are angry at the violence and chaos IRGC-backed militias are causing in their country, Abu Wissam told Diyaruna.
Sheikh Muzahim al-Huweit, a tribal spokesman in Ninawa, told Diyaruna that IRGC-backed militias, especially Kataib Hizbullah and Usbat al-Thaereen, have shown their true colours to the Iraqi people.
"Regional hegemony and the turbulent environment it is creating in Iraq is what the Iranian regime needs to protect itself from disintegrating," he said.
Al-Huweit said Kataib Hizbullah has carried out many acts of violence against Iraqis since its establishment in 2007 under the supervision of IRGC leaders and Lebanese Hizbullah.
Kataib Hizbullah was behind the kidnapping and disappearance of thousands of residents of Bzebiz Bridge, al-Razaza, Ninawa Plains, Salaheddine and Kirkuk provinces. It continues to target Iraqis through organised operations and to harm the standing of the Popular Mobilisation Forces (PMF), he said.
Stability 'depends on militia disbandment'
Political analyst Abdul Qadir al-Nayel told Diyaruna that Iraq could be stable if all factions loyal to the IRGC and Lebanese Hizbullah were disbanded and removed from the country.
These groups include Kataib Hizbullah and other groups that it has thrust centre stage in order to cover up its terrorist activities, such as Usbat al-Thaereen, Ashab al-Kahaf, Rubu Allah and Saraya al-Muntaqem, he said.
A number of IRGC commanders, as well as some 60 elements of Lebanese Hizbullah, lead these groups' intelligence and operation trainings, he said.
According to al-Nayel, Kataib Hizbullah and its factions use the Jurf al-Sakhr area, south-west of Baghdad, as a base, and occupy senior positions in sensitive units of the PMF, including in its intelligence and missile divisions.
"These groups try to stifle freedom through actions like burning the headquarters of satellite channels Dijlah TV and MBC Iraq," he said.
They also burned down the headquarters of the Kurdistan Democratic Party on October 17th after party leader Hoshyar Zebari demanded that militias be expelled from the Green Zone, he said.