Usbat al-Thaereen (League of the Revolutionaries), which made its debut by claiming March attacks on international coalition facilities in Iraq, is no different than other militias loyal to and working for the Iranian regime, analysts said.
The previously unknown militia claimed its first attack on March 11th, when 18 rockets hit Taji airbase, killing two US military personnel and a British soldier.
Three days later, a volley of 33 Katyusha missiles hit Taji again, causing several casualties, international coalition and Joint Operations Command officials said.
In a video posted online on March 17th, Usbat al-Thaereen claimed responsibility for the Taji attacks. "The story is not yet over," the militia said in the video, renewing its threats against US forces in Iraq.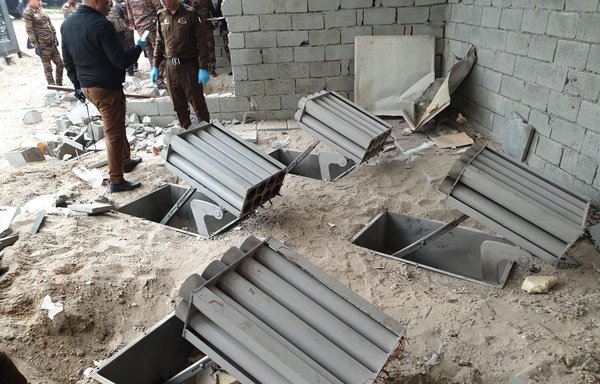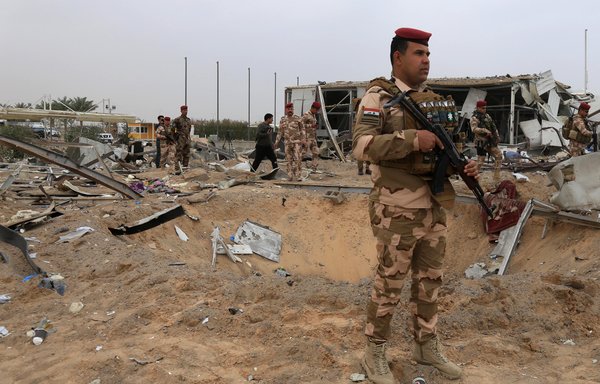 On March 26th, two rockets slammed into an empty square near an Iraqi security headquarters in Baghdad's Green Zone, where government buildings and foreign embassies are based, Iraqi forces said in a statement.
The intended target appeared to be the US embassy, a few hundred metres further south on the banks of the Tigris, an Iraqi security source told AFP.
No casualties were reported in that attack.
While Usbat al-Thaereen has not claimed the Green Zone attack, the militia posted a video on April 2nd threatening the US embassy compound.
Another IRGC-affiliated militia
Usbat al-Thaereen is merely "a new set of agents linked to Iran's Islamic Revolutionary Guard Corps (IRGC) that serve Iran's agenda to fuel violence and tension in Iraq and other countries", said military expert Hatem al-Falahi.
The militia reportedly comprises 2,000 members, he told Diyaruna.
Usbat al-Thaereen "was formed by IRGC Quds Force commander Esmail Qaani to demonstrate that he is following in the footsteps of his predecessor [Qassem Soleimani] and is continuing to serve the destructive Iranian agenda", he said.
The emergence of the 'new' militia and its claim of recent attacks "gives the illusion that the existing militias are not responsible for the attacks", he said.
The Iranian regime has chosen to fight its battles on Iraqi soil, al-Falahi noted, pointing out that the Iraqi people "are resentful of Iran's continuous behaviour and threats" against their security and interests.
The emergence of new militias indicates the Iranian regime disregards the sovereignty of Iraq and the security of its people and disrespects the principles of neighbourly co-existence, he said.
Popular resentment has reached peak levels, al-Falahi added, especially after Iran's agents assassinated and suppressed Iraqi protestors in recent months.
"The Iranian regime is trying to drag Iraq into the unknown by nurturing new militias and creating unrest that serves Iran's interests," he said.
Iranian leaders 'stumbling'
The Iranian regime has continued to carry out attacks on international coalition forces in Iraq through its proxy militias. But it "does not want its influence to be jeopardised" when these forces strike back, Iraqi political analyst Ahmed Shawqi told Diyaruna.
Usbat al-Thaereen has been brought forward to claim responsibility for such attacks in an attempt to "protect Iran's influence and create a smokescreen", he told Diyaruna.
The sudden appearance of a new militia may also indicate that "Iranian leaders are stumbling as they run their militias, which are rife with intense competition among their leaders" following Soleimani's assassination, he said.
The continued targeting of Iraqi bases confirms the Iranian regime "will not abandon its policies and activities that are harmful to Iraq and its neighbours", he said.
Through such attacks, Iran seeks to destabilise the region in order to further its expansionist agenda, and also to "escape its internal problems that have been exacerbated by the coronavirus pandemic", Shawqi said.
Iran threatening Iraqi security
"Instead of confronting the coronavirus pandemic, which is threatening the entire world, Iran's rulers are still preoccupied with their agenda to wreak havoc throughout our country," said a Basra resident who asked to remain anonymous.
"They continue to threaten the security of our country by creating new militias under different guises and names in service of their despicable interests," he told Diyaruna.
Iran is focused on creating new agents in Iraq "in defiance of the will of the Iraqi people, who have been calling for an end to the influence and existence of the militias through months-long protests", a Baghdad resident said.
"The IRGC and its agents are only interested in bringing destruction to Iraq," he told Diyaruna, asking that he be quoted simply as Abu Mohammed.