The escalatory steps taken by Iraqi militias aligned with Iran's Islamic Revolutionary Guard Corps (IRGC) against international coalition forces stationed in Iraq are increasingly driving resentment among Iraqis, observers tell Diyaruna.
The Iraqi public rejects the IRGC's efforts to thrust their country into proxy wars for the benefit of the Iranian regime and fear the consequences of the recent attacks on their country, they said.
Iran-backed militias have dialed up their attacks against coalition forces present in Iraq, with more than two dozen attacks launched since October.
The most recent attack involved two rockets slamming into the Iraqi capital's high-security Green Zone on March 26th, hours before US-led forces were set to pull out of a second base in the country.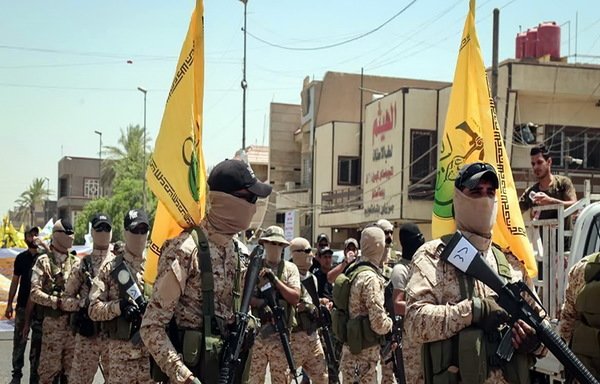 An Iraqi security source told AFP the intended target appeared to be the US embassy. There were no reports of casualties.
The most violent of the string of militia attacks occurred last month, when 18 rockets hit Taji airbase, killing two US military personnel and a British soldier.
Three days later, a volley of 33 Katyusha missiles hit Taji again, causing several casualties, international coalition and Joint Operations Command officials said.
In a video posted online on March 17th, Usbat al-Thaereen (League of the Revolutionaries), a previously unknown militia, claimed responsibility for the Taji attacks.
Loyalty to Iranian regime
"Militiamen spare absolutely no thought to the consequences of their actions," former Iraqi MP Taha al-Lahibi told Diyaruna. Their only objective is to "make Iraq easy prey for the Iranians".
"The escalation of their attacks is proof that they have no respect for the government and the rule of law and that they care little for the sovereignty and interests of the homeland," he said.
Instead, they insist on demonstrating their loyalty to the Iranian regime and standing behind that country's agenda, he added.
"As expected, Iran does not engage in any fight directly but pushes its proxies to do its work outside its borders... leaving them to pay the price," said al-Lahibi.
"The militias must understand that their provocative actions are useless and will only bring more problems to Iraq and threaten its stability," he said.
All efforts must be focused on combating the novel coronavirus (COVID-19) pandemic, he added.
Iran-backed militias are taking advantage of the current conditions to achieve their goals and serve Iranian interests, Thaer al-Bayati, secretary general of the Council of Arab Tribes in Salaheddine, told Diyaruna.
"At the height of unprecedented political and economic crises hitting the country and the drop in oil prices, coupled with the coronavirus threat, these militias are igniting the spark of losing battles for Iraq and its people," he said.
The only party benefiting from these actions is the Iranian regime, he added.
The March 30th visit by IRGC Quds Force commander Esmail Qaani to Baghdad, where he met with several militia leaders and commanders, "clearly demonstrates Iran's determination to interfere in Iraq's political and security affairs", he said.
Militias suffer financial woes
The militias are in dire financial straits as many of their leaders have been placed under US sanctions, meaning their assets have been frozen and they are banned from making any financial transactions, al-Bayati said.
But the militias are still able to pay their elements and cover expenses for recruiting new fighters, he said.
Political analyst Ghanim al-Abed agrees, saying that it has become evident that funding sources for Iran-backed militias are dwindling.
However, they still maintain revenue streams through corruption, extortion, theft of public property, smuggling operations and taxes imposed on goods at border crossings, he told Diyaruna.
These funds are being diverted to benefit the Iranian economy and the IRGC's agenda, which undermines Iraq's security and sovereignty, he said.
"The militias are implementing Iran's malicious plans in our country… and are willing to burn down the country to please Iran," a Baghdad resident who asked to remain anonymous told Diyaruna.
"Why does our country have to be dragged into Iran's conflicts and foot the bill for its problems?" he asked.
These militias' escalatory attacks and constant threats are enraging the Iraqi public, he said.
"We want to tell these rogue groups that Iraq does not belong to you and you are not in charge of determining its fate."