A fresh spate of rockets on Saturday (March 14th) targeted an Iraqi base north of Baghdad where international coalition troops are deployed in a rare daytime attack, Iraqi and US security sources said.
It was the 23rd such attack since October on installations across Iraq where US troops and diplomats are based.
None of the attacks have been claimed, but the US has blamed Iran-backed militias operating under the auspices of Iraq's Popular Mobilisation Forces (PMF).
At least 33 rockets hit Iraqi air defence units at the Taji airbase on Saturday.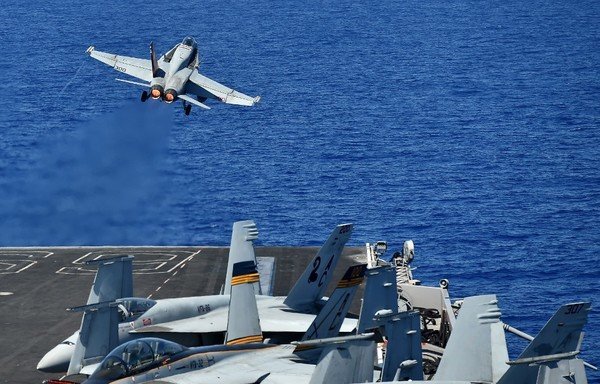 "The initial toll is two wounded Iraqi Air Defence personnel who are in very critical condition," said Joint Operations Command spokesman Tahseen al-Khafaji.
The international coalition said three of its members also were wounded.
Iraqi forces said they had found another 24 missiles at a nearby launching site and had detained the owner of the plot of land as well as security forces from an adjacent checkpoint for questioning.
Saturday's attack came three days after a similar attack on the base killed two US military personnel and a British soldier.
The US responded to that attack Friday with airstrikes on five arms depots around Baghdad it said were used by Iran-backed militia Kataib Hizbullah.
Some 5,200 US troops are based in Iraq as part of the international coalition helping local troops root out "Islamic State of Iraq and Syria" (ISIS) remnants.
Aircraft carrier task forces to remain
The Pentagon said Friday it would keep two aircraft carrier task forces in the Gulf region after carrying out retaliatory strikes on the Kataib Hizbullah depots.
US Central Command chief Gen. Kenneth McKenzie said the carrier groups would be staying for a sustained period following a series of attacks on US positions in Iraq by Iran-backed groups that have ratcheted up tensions with Tehran.
The deployment of the USS Dwight D. Eisenhower and the USS Harry S. Truman marked the first time since 2012 that the Pentagon had authorised keeping aircraft carriers in the Gulf.
"We have the flexibility, the capability and the will to respond to any threat," McKenzie said Friday.
"There are no access, basing and overflight issues associated with an aircraft carrier. It is a floating piece of American sovereignty," he said.
McKenzie said Tehran had not pulled back its regional military operations since the US killing in January of Islamic Revolutionary Guards Corps Quds Force commander Qassem Soleimani.
He added however that its ability to direct groups like Kataib Hizbullah had been diminished by the loss of Soleimani and the impact of the coronavirus pandemic on the Iranian leadership.
"It is harder for them to make effective decisions... Someone has replaced him. I do not think that someone is going to be as good as him in the short term. We will see how it works out in the long term," McKenzie said.
The US does not believe Iran wants a direct conflict, preferring instead to continue to act through proxies to harass US forces and promote its own ideology in the region.
"We believe we have established a level of state-to-state deterrence, in that Iran does not seek a large scale military exchange with the US," McKenzie said.
But he added: "None of their core objectives have changed."