Attacks launched by Iran-backed militias against US military and diplomatic sites in Iraq threaten the country's security and foreign relations, an Iraqi expert told Diyaruna Monday (September 28th).
The US has told the Iraqi government it is planning a full withdrawal from its embassy in Baghdad unless Iraq reins in these attacks.
US Secretary of State Mike Pompeo called Iraqi President Barham Saleh last week to deliver the ultimatum, Iraqi and foreign officials told AFP.
"The Americans are not just angry. They are really, really, really angry," one Iraqi official said.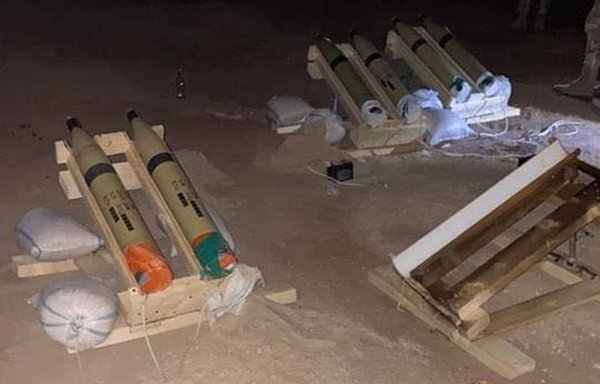 Another said: "The honeymoon is over."
The US still has hundreds of diplomats in its mission at the high-security Green Zone in Baghdad and around 3,000 troops based in three bases across the country.
Since 2019, dozens of rockets and improvised explosives have targeted these sites, with US and Iraqi officials blaming Tehran-backed factions including Kataib Hizbullah.
Washington has twice retaliated with strikes on Kataib Hizbullah in Iraq and threatened earlier this year to bomb more than 120 further sites if the rocket attacks cost American lives, a top Iraqi official told AFP.
Growing consensus against militias
The new US threats seem to have deepened the growing rift between factions loyal to Iran and those less willing to enter into a full confrontation with the US.
After months of silence, populist Iraqi cleric Muqtada al-Sadr took to Twitter last week to call for "the creation of a security, military and parliamentary committee to investigate" the rocket attacks.
Within minutes, Prime Minister Mustafa Kadhemi and other top government figures endorsed the recommendation.
"There is a consensus on condemning these attacks. Kataib Hizbullah and other hardliners are isolated and left without political cover," an Iraqi official said.
The militias are loyal to Iran and its Islamic Revolutionary Guard Corps (IRGC) and do not take Iraq's national interest into account, said Ghazi Faisal Hussein, an adviser to the Iraqi Centre for Strategic Studies.
Since the US announcement, many Iraqi public figures have issued statements denouncing the militias' irresponsible actions, condemning the attacks as an "assault on Iraq's sovereignty and its international standing", he told Diyaruna.
Sacking pro-Iran PMF commanders
Even the PMF slammed the rocket attacks as "illegal military acts", denied involvement and formally sidelined a pair of commanders seen as too Iran-leaning.
Hamid al-Jazairy, deputy commander of the Iran-backed Saraya al-Khorasani, has been sacked from his position as commander of the PMF's 18th Brigade, Hussein said.
Waad Qado (Abu Jaffar al-Shabaki), the commander of the 30th Brigade militia, affiliated with the Iran-backed Hashd al-Shabak, has also been dismissed from his position, he added.
But the hardliners, too, are organising.
A half-dozen previously unheard-of groups have claimed responsibility for rocket attacks on the US and even threatened the UN in recent months.
Iraqi intelligence officials and political sources say Iran has been gathering the most hardline among its Iraqi allies into these new formations, AFP reported.
Hussein called for making "fundamental changes to the PMF" that are consistent with the vision presented by Grand Ayatollah Ali al-Sistani in his recent meeting with the UN's top representative in Iraq.
During the September 13th meeting, al-Sistani called for imposing the authority of the state and preventing the splintering of Iraqi regions into separate territories "controlled by certain groups by force of arms".
Concerted efforts to isolate militias
Iran-backed militias should be isolated and banned from using the PMF as a cover for its nefarious activities, Hussein said.
The acts of violence they stage under the slogan of "resistance" only serve "Iran's radical strategy aimed at thrusting Iraq and the region into wars and crises", he added.
These militias are directed by the IRGC "to provoke conflict with the US", which has enormous military, technical and economic capabilities, he said.
President Saleh held a meeting Sunday with Kadhemi, Iraqi parliament speaker Mohammed al-Halbousi, and the president of the Supreme Judicial Council, Judge Faeq Zidan, during which they condemned the actions of the militias.
"The actions of these outlawed groups against the country's security and sovereignty are heading in a dangerous direction that puts Iraq's stability at real risk," the officials said in a statement following the meeting.
This calls for concerted efforts at all levels and a strong, active position of the various political forces in order to address this escalation, it said.