In mid-September, the Iraqi government announced it was making changes in the upper echelons of a number of state agencies, including those tasked with managing the national economy.
Changes were made at many financial, banking and economic institutions, including the Central Bank of Iraq, where a new governor, Mustafa Ghaleb, was appointed. He had been running the bank's legal affairs department.
Other new appointments included Suha Dawoud al-Najjar, to head the National Investment Commission; Salem al-Chalabi, as director of the Iraqi Trade Bank; and Faisal al-Haimus, as head of the Iraq Securities Commission.
"These necessary changes fall within an administrative and legal context as the official legal terms for some officials had come to an end," Prime Minister Mustafa Kadhemi said in a September 15th announcement.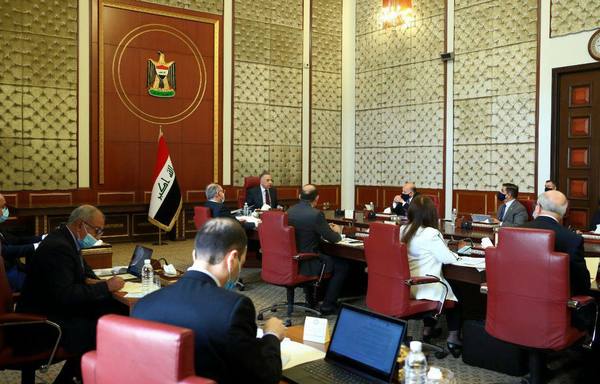 He stressed that these appointments were not designed to bring about "procedural change" in institutions.
According to government spokesman Ahmed Mulla Tallal, the selection of new appointees for special job grades "came from inside the institutions themselves and on the basis of competence and experience".
Reining in influential groups
Observers who spoke with Diyaruna noted that the public sector leadership changes are primarily aimed at reigning in the interests of militias and other influential groups who might seek to interfere in Iraq's economic system.
In a September 15th report, Washington Institute for Near East Policy researcher Michael Knights said the leadership changes intend to "reduce the chances of negative actors" taking advantage of strategic economic systems.
He noted that it remains to be seen if Kadhemi's government will be able to withstand the anticipated confrontation from militia and political elements that have benefited from the status quo.
Al-Fateh Alliance, headed by Hadi al-Amiri, who is close to Iran, complained that the administrative appointments were a "return to quotas", and said they had not been made aware of them.
The reshuffling going on at the leadership level of economic institutions could disrupt the meddling of influential groups in the affairs of these institutions, economist Saleh al-Hammash told Diyaruna.
"Whether this step will help minimise their influence is another matter," he said.
He pointed out that the government is engaged in a struggle against armed parties and factions that have political cover and maintain economic benefits and revenues that flow from a host of corrupt activities.
These parties will always try to block any effort that thwarts their influence, he said, and will exert pressure in order to establish and serve their interests.
Curbing economic interference
It will take some time to fully address harmful interference in the national economy and any associated corruption, al-Hammash said, and will require more effective measures, that go beyond changing the top executives.
The goal is to expunge the entire economic system of corruption networks that are sponsored by influential groups and parties, he said.
To accomplish this, the government needs political will and support, he said, along with regional and international co-operation.
This might involve the use of international accounting firms and international police, who would help Iraq seek out and target corruption networks and dubious foreign investments, al-Hammash said.
Before the recent appointments, Kadhemi made administrative changes in the transport sector, among them the replacement of four directors and their deputies in the southern port of Umm Qasr.
He also announced the appointment of new leadership for the Civil Aviation Authority, which, as Knights noted, began the process of preventing Kataib Hizbullah-controlled companies from bidding to provide ground services and security at airports.
Removing 'corrupt players'
The successful selection of executive level appointees is an important factor in ensuring an administration free from any external pressure, said Abdul Rahman al-Mashhadani, who teaches economic relations at the Iraqi University.
Independence from party affiliation, coupled with experience and subject matter expertise, enable sound decision-making, he told Diyaruna.
Ridding the national economic institutions of the influence of corrupt players is also necessary in order to achieve the desired economic reform, he said.
Other measures would include the enactment of new laws to regulate economic activity in the country, along with co-ordination and co-operation among the legislative and executive authorities, he said.
Another critical step is to reveal the names of those involved in corruption and their hidden associations to groups and parties, al-Mashhadani said.
This would entail making public the results of investigations they are involved in, as well as holding them accountable for their actions, he said.