Corruption was the driving force behind the resounding defeat that political parties representing Iran-backed armed groups suffered in Iraq's October 10 legislative elections, political observers said.
These militias have been engaged in widespread corruption across Iraq, diverting billions of dollars away from state coffers through customs evasion alone to line their own pockets, an AFP investigation found earlier this year.
They have operated a parallel system that Iraq's finance minister has described as "state plunder", divvying up land and sea border points among themselves, taking bribes and engaging in other types of extortion.
The Iraqi people have felt the impact of this type of corruption acutely, as it has led to an erosion of public services, dilapidated infrastructure and rising poverty -- and did not cast their ballots for these parties.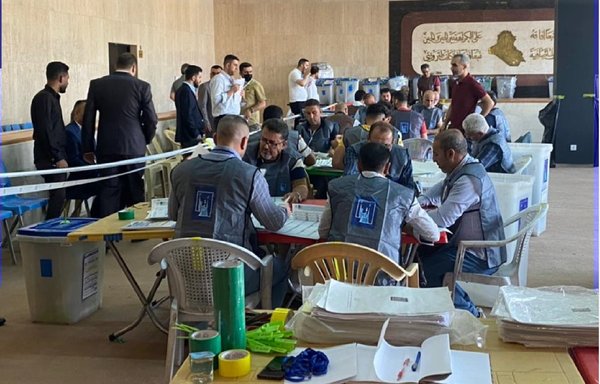 Prime Minister Mustafa Kadhemi's government has focused on eradicating corruption by prosecuting senior officials, many of whom work under the protection and influence of armed groups.
These efforts have yielded positive results, according to al-Iraqiya University professor of economic relations Abdul Rahman al-Mashhadani.
In August, Kadhemi formed a government committee to address major corruption, and has since issued arrest warrants against more than 52 administrative leaders and political officials on corruption charges, he said.
Former Ninawa governor Nawfal al-Akoub, who was supported by the militias, is on this list. He is accused of embezzling millions of dollars, including aid for citizens who had fled their homes in the war against the "Islamic State of Iraq and Syria" (ISIS).
Al-Akoub and his cronies are accused of taking almost $64 million in public funds.
Expunging corruption
Al-Mashhadani said he supports all the practical steps the government is taking, as they are "tangible anti-corruption measures, not just talk".
"It falls to the next government to continue working earnestly" to remove all corrupt officials, he said, "from the top of the pyramid to its base".
Via the elections, he said, the Iraqi people called to account all political figures and parties involved in corruption and mismanagement, as well as those who prevented their prosecution and provided support and cover for their activities.
When the opportunity arose, the people "voted against them in a punitive reaction", al-Mashhadani said.
Poor services and the militias' corruption fueled a massive grassroots protest movement in 2019 that led to the toppling of Adel Abdul Mahdi's government.
The new government worked to meet the protesters' demands by launching campaigns to control the borders in a bid to clamp down on the corrupt activities of Iran-affiliated groups.
It led efforts to stop the flow of millions of dollars in daily revenue from the smuggling of oil and goods via seaports and land crossings that had been funneled into the coffers of more than 40 of those groups, al-Mashhadani noted.
And it imposed strict controls on the auctioning of dollars, which used to be sold to banks indirectly owned by militia leaders and influential parties who run money laundering and smuggling activities for Iran.
In efforts to improve public services, the government signed major investment contracts with countries such as Saudi Arabia, Egypt and France to boost electricity supplies and upgrade the infrastructure.
It did not succumb to the threats made by Iran's proxies, whose representatives in government failed to get a deal passed that would have mortgaged Iraqi oil revenues to China for 20 years in exchange for the implementation of service projects.
Breaking militias' hegemony
But drying up the militia's funding sources and eliminating their corruption continue to be a major challenge, said academic and politician Taha al-Lahibi.
The militias "continue to generate money by imposing tributes on merchants, farmers and commercial truck drivers".
Their economic offices plunder the resources of the areas liberated from ISIS, he said, "meddling with reconstruction deals and projects and extorting investment companies".
"The failure of Iran's proxies in the elections was a clear expression of popular rejection of all their transgressions, corruption and failure to administer the state," he said.
It is "evidence of the people's desire to get rid of the militias' hegemony, which over the past years has brought nothing but destruction on all aspects of life".