An uptick in "Islamic State of Iraq and Syria" (ISIS) attacks in remote desert areas of Salaheddine has prompted Iraqi forces to enhance security efforts in the province.
In recent weeks, ISIS elements launched attacks on checkpoints and civilian targets, including an August 20th attack targeting a shrine near the town of al-Dujail, that killed five security personnel and wounded eight others.
The Iraqi army and supporting units have zeroed in on tunnels and caves in the northern and western deserts of Wadi al-Tharthar to Anbar province. They also combed the mountain range between Makhoul and al-Sharqat, all the way to Hatra in Ninawa province.
'ISIS now less able to infiltrate Salaheddine'
Maj. Gen. Abdul Mohsen Hatem al-Abbasi, commander of the Salaheddine security operations, said the operations were carried out with support from the international coalition.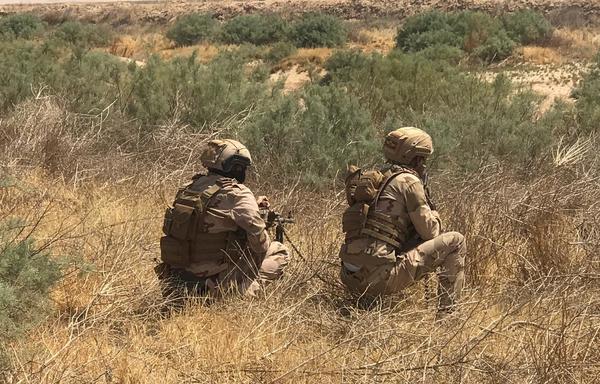 ISIS is now "less able to infiltrate Salaheddine", he told Diyaruna.
Al-Abbasi said the operations targeted shelters used as gathering and resting places for terrorists coming from the deserts of Anbar and Ninawa provinces.
Those shelters are also departure points to the Salaheddine, Makhmour and Hamreen mountains as well as several agricultural villages that share borders with Diyala province and northern Baghdad, he said.
On August 21st, international coalition warplanes launched an airstrike on a terrorist hideout in the south of Salaheddine province.
Maj. Gen. Tahseen al-Khafaji, spokesperson for the Joint Operations Command, told Diyaruna the strike targeted a gathering of ISIS elements "after we located their hiding place using a reconnaissance plane".
The hideout, he said, was a guesthouse in an orchard near the district of al-Tarmiyah.
The coalition's bombing killed "an unspecified number of terrorists, several of whom were commanders that were planning to carry out terrorist acts in other areas".
Al-Khafaji said the attack was part of a new tactic adopted by the Joint Operations Command, based on enhancing intelligence support to obtain "as much information as possible about ISIS activities, cells and hideouts".
Militants still active in desert areas
Al-Khafaji told Diyaruna efforts are focused on "combing desert areas, especially within Salaheddine, Anbar and Ninawa provinces, in order to discover terrorist gatherings and destroy their passageways", since militants are still active in those areas.
Current and future operations are also focused on tightening security measures along the Iraq-Syria border.
On August 22nd, the Iraqi Army's 8th Intelligence Unit arrested "several ISIS families" (without specifying their numbers) near the al-Qaim border crossing, as they were illegally crossing the border from Syria into Iraq.
The Iraqi Counter-Terrorism Service (CTS) announced on August 21st that it carried out a "major security operation in northern Salaheddine, dismantling an eight-member ISIS cell in al-Sharqat".
The captured elements intended to attack security forces, the statement said.
Salaheddine provincial council security committee member Abd Sultan Issa al-Jubouri said the operation was part of a campaign carried out by the CTS and other security forces.
The operations secured the Makhoul and al-Baaj mountains, the agricultural lands bordering north of Baghdad, Diyala and Anbar provinces, as well as the al-Tharthar, Tikrit, Baiji and al-Sharqat islands.