Three "Islamic State of Iraq and Syria" (ISIS) militants were killed in an operation by Iraqi forces, backed by coalition and Iraqi air cover, in western Salaheddine province, an Iraqi military official said Monday (August 10th).
Over the past two days, Salaheddine Operations Command forces, in co-ordination with the Joint Operations and Land Forces commands, cracked down on ISIS hotspots north of Wadi al-Tharthar, western Salaheddine province.
Units from the 91st Infantry Brigade, the automated regiment of the army's 9th Division, the Salaheddine police command's emergency, SWAT and tactical units, also participated in the operation, said Salaheddine Operations Commander Maj. Gen. Abdul Muhsen al-Abbasi.
The targeted area is a remote area that lies between the districts of al-Sharqat and Hatra, where there are many natural tunnels used by extremists as hideouts.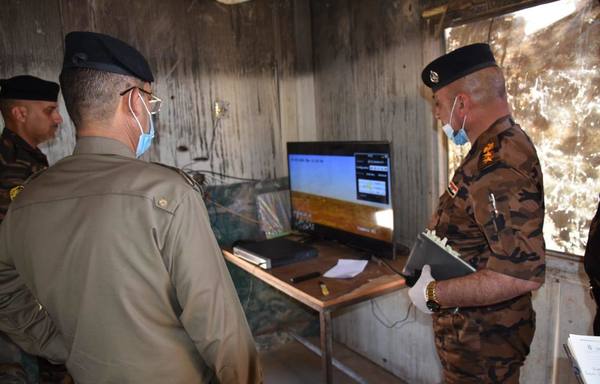 "Iraqi air force and international coalition aircraft supported our units by directing precise strikes on the tunnels and caves where enemy elements gather," said al-Abbasi.
"Three terrorists were killed in an attack on a large tunnel," he said, adding that the forces destroyed other hideouts without aerial support.
At least 10 tunnels and rest-houses were destroyed in the operation, he added.
Several other military operations have taken place in Salaheddine, most recently when extremist hotspots in Jisr al-Bakkah in Wadi al-Tharthar were targeted, and seven militants were killed, said al-Abbasi.
Degraded ISIS capabilities
ISIS remnants infiltrating Iraq via the Syrian border or those crossing in through the western desert are using the wadi area and the Salaheddine province's western al-Jazeera as a meeting point, he said.
From there, they spread out to areas in northern and eastern Iraq, such as the Makhmour and Makhoul mountains and the Hatra desert, said al-Abbasi.
However, intensive security operations have significantly curtailed the militants' movements and cut off their transportation and supply lines, he said.
"We are always tracking them down and detecting their hideouts and movements with drones and aerial reconnaissance that conduct a comprehensive and periodic survey of areas suspected with terrorist presence," he said.