The recent uptick in rocket attacks on foreign military and diplomatic sites in Iraq has led many Iraqis to accuse Iran-aligned militias of staging the attacks in order to isolate their country, experts told Diyaruna.
The perpetrators behind these "cowardly" rocket attacks have no patriotism or loyalty to their country, said military expert retired Maj. Gen. Jaleel Khalaf Shuweil.
The Katyusha rocket attacks target civilian locations and Iraqi military bases where international coalition advisors and trainers are present, he told Diyaruna.
Since the start of the year, dozens of rocket attacks have targeted Baghdad International Airport, the Green Zone in central Baghdad and the military bases of Taji, Balad, Basmaya and Speicher.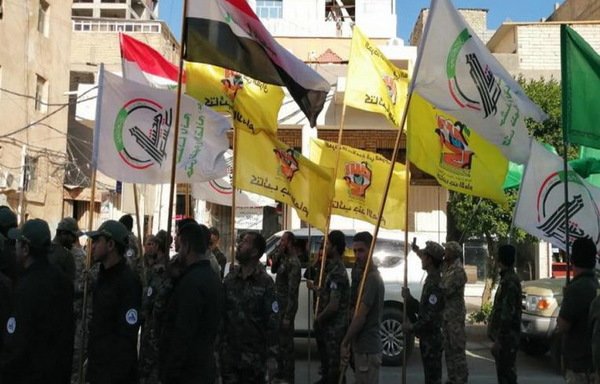 More recently, several IEDs planted on main roads in southern Iraq have targeted trucks carrying supplies for the international coalition, according to media reports.
Harming Iraq's image
Shuweil accused Iran-aligned factions of orchestrating these attacks "to harm Iraq, undermine its sovereignty and show the world it has no security or rule of law".
Through these actions, they seek to "isolate [Iraq] from the rest of the region and its international partners", he said.
The Iranian regime aims to "destroy Iraq and thrust it into a cycle of chaos and conflict in order to exploit its wealth and economic resources and ultimately dominate its decision making process", he said.
Iranian leaders do not want Iraq to rise and regain its power, he added, which is why they continue to recruit agents that are loyal to them and they supply them with weapons and money.
It is incumbent upon Iraqis to confront these agents and take deterrent measures to stem their destructive activities and protect the country, Shuweil stressed.
"I urge the government to confront any outlaws and protect the members of diplomatic missions as they are guests in our country," Shuweil said, noting that the coalition trains and supports Iraqi troops in the war against terror and assists in reconstruction efforts.
Hours after Prime Minister Mustafa Kadhemi headed to the US on an official visit August 18th, a Katyusha rocket landed near the Baghdad International Airport -- which is adjacent to a military base that houses soldiers from the coalition -- without causing any casualties.
Two days earlier, a rocket fell into the Green Zone without causing any casualties, while security forces dismantled two other rockets that were ready to be launched.
Diminishing Iranian influence
Iran is using its loyalist factions in Iraq -- 73 militias in total -- as tools to place pressure on the international community and the US, Iraqi strategy expert and political analyst Alaa al-Nashou told Diyaruna.
He said Iran's "Islamic Revolutionary Guard Corps" (IRGC) is orchestrating the rocket attacks "to use Iraq as a theatre of confrontation with the world and send a message of defiance to push back against sanctions".
As a result, Iraqis are growing more and more hostile towards Iranian intervention in their country and the regime's attempt to undermine Iraqi sovereignty, he said.
Iraqi journalist and political analyst Ziad al-Sinjari echoed this sentiment, noting that the Iranian regime only knows "the language of blood and destruction and would not hesitate to commit mindless acts in order to maintain its influence and eliminate opponents".
This is evident from the latest wave of assassinations targeting Iraqi activists in Basra province, he said, which many have blamed on Iran-backed militias.