Bedouin and herdsmen who live a nomadic life in the Anbar desert near the border with Syria have been relocating to the outskirts of some Iraqi towns, amid complaints that they are being harassed by Iran-backed militias.
Many nomads were displaced when the "Islamic State of Iraq and Syria" (ISIS) overran large swathes of Anbar in mid-2014, returning to the province's desert areas after Iraqi and international coalition forces ousted the group in late 2017.
Now, nomads and local officials told Diyaruna, they are being forced to relocate once again -- this time by Iran-backed militias operating under the auspices of the Popular Mobilisation Forces (PMF).
Iran-backed Iraqi militias, including Kataib Hizbullah, Harakat al-Nujaba and Saraya al-Khorasani, have been establishing and consolidating their presence in the area along the Syrian border since the defeat of ISIS.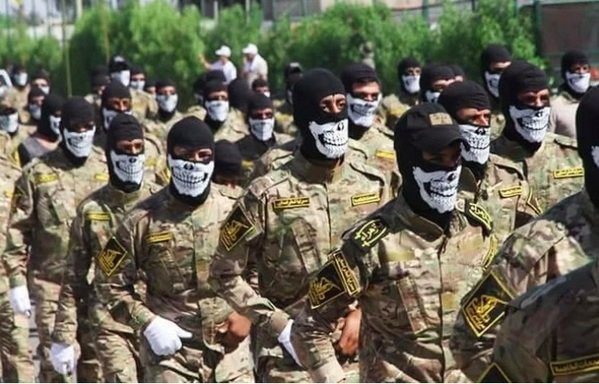 They have taken over private homes and property in the border area, establishing barracks, military positions and weapons depots. These actions have discouraged many who were displaced by ISIS from returning.
Al-Qaim, which is directly across from the Syrian city of Albu Kamal, is a main crossing point with Syria. The border town has served as a crossing point for militias supporting the Syrian regime, and has become a hub for them.
The presence of Iran-backed militias in this area supports Iran's eventual goal of establishing a trans-regional land route, experts have told Diyaruna.
Bedouin complain of harassment
Large numbers of Bedouin and herdsmen recently decamped with their tents and livestock to areas near the cities of al-Qaim, Heet and al-Mohammadi, saying they had been harassed by armed militias.
They claimed the militiamen had seized cattle and camels and destroyed their water tanks to prevent them from returning to their areas, as well as physically assaulting some of them.
According to local media reports, the militias have taken these actions, which include forcing nomads to move and demanding a payment in cash or livestock, under the pretext that they have been supporting terrorists.
Around 80 Bedouin and shepherds have been recently displaced from the Anbar desert due to harassment by Iran-aligned militias, a local official who asked to remain anonymous told Diyaruna.
Some have been robbed and forced to pay tributes, while others were physically assaulted and their possessions were destroyed, he said.
These displaced residents are camped out on the outskirts of Anbar cities and have filed complaints with the Iraqi police about the harassment they have faced, the local official said.
Their testimonies appear to conform that Iran-backed militias aim to "clear those areas of civilian presence, so as to clear the way for them to engage in illegal activities tied to Iran and the Syrian regime", he said.
Militias playing a 'subversive role'
Iraqi forces have received various complaints of harassment and extortion from Bedouin and shepherds in areas near al-Qaim, al-Rutba and al-Annaz, said Col. Mohsen Sattar al-Awadi of al-Jazeera and al-Badiya Operations Command.
Al-Jazeera and al-Badiya Operations Command is responsible for maintaining security in the Anbar desert, which extends to the border strip with Syria.
Iraqi forces will deploy in areas close to where the nomads are present, he told Diyaruna, to provide them with protection and prevent future attacks.
In a video local activists circulated online, a Saraya al-Khorasani commander is seen confiscating the ID of a Bedouin in the desert, without giving any reason.
The acts of harassment are an extension of the efforts by Iran-backed militias to take control of the border area, said Iraqi security expert Ahmed al-Hamdani.
The frequent reports of harassment involve not only Bedouin or shepherds, but also the residents of border villages, he told Diyaruna.
These militias are playing a subversive role and adding to the burden of Iraqi security forces, which seek to ensure stability in those areas, he said.
The Iranian strategy in Iraq is predicated on continued instability, "because stability eliminates its last pretexts for interfering in Iraqi affairs and stops it from forming militias", Iraqi politician Talib al-Issawi told Diyaruna.
Iran wants to control the border area between Iraq and Syria, and has been focused on expanding its influence in these areas through the militias, he said.