A growing climate of instability in the Anbar border town of al-Qaim can be attributed to the increasing presence of Iran-aligned militias, Iraqi officials in the province tell Diyaruna.
Al-Qaim was the scene on December 29th of three US airstrikes targeting a pro-Iran militant group, in retaliation for a rocket attack on an Iraqi military base in Kirkuk that killed a US civilian contractor.
The Pentagon said it had targeted weapons caches or command and control facilities linked to Kataib Hizbullah in western Iraq and eastern Syria.
A few days later, a US strike on Baghdad's international airport killed top Quds Force commander in the Islamic Revolutionary Guard Corps (IRGC), Qassem Soleimani, and Popular Mobilisation Forces (PMF) deputy head Abu Mahdi al-Muhandis.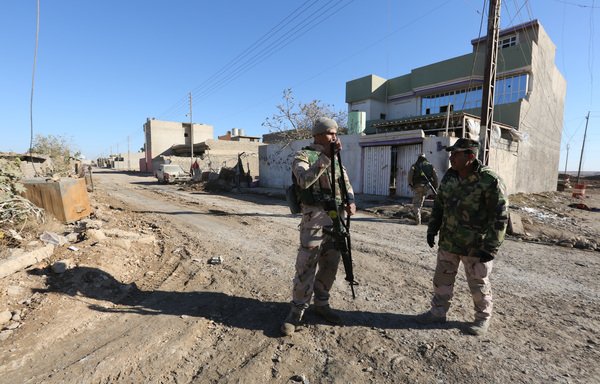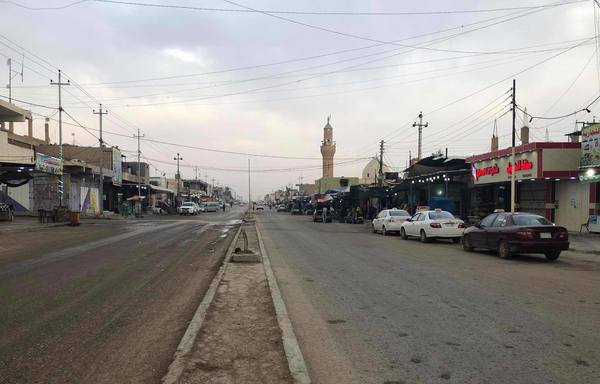 In addition to Kataib Hizbullah, Iran-backed militias present in the al-Qaim area include Harakat al-Nujaba, Kataib al-Imam Ali, Saraya al-Khorasani, Sayyed al-Shuhada Brigade and Kataib Jund al-Imam Battalions, local officials said.
These militias have converted private houses in al-Qaim's residential neighbourhoods into headquarters and weapons depots, which has in turn prevented displaced residents from returning to the city, they added.
Heavy militia presence
An al-Qaim district official said he attributed the low percentage of returnees, who were initially displaced by the "Islamic State of Iraq and Syria" (ISIS), to the presence of these militias.
Militias have interfered in the lives of residents and have committed abuses against them, imposing restrictions on their personal freedoms, he said.
The number of militiamen now exceeds the number of residents in some areas of the city, the local official told Diyaruna.
In the "phosphate complex" and in the al-Muallemin, Jumrok and al-Atebba districts, the militias have seized homes for their own use and turned some of them into weapon depots, he said.
Though ISIS elements no longer have a presence or influence in the city, he added, it is still neither secure nor stable, because of the militias that have been present for two years or those who enter from Syrian territory.
Al-Qaim, which is directly across the border from the Syrian city of Albu Kamal, is a main crossing point with Syria.
According to the local official, the militias are present at 29 locations inside al-Qaim, not counting their barracks and positions on the outskirts of the city.
If this continues, he cautioned, militiamen will eventually outnumber residents.
The militias are clearly present on Iranian orders, city elder Sheikh Mohsen Obaid al-Issawi told Diyaruna, as otherwise there would be no reason for thousands of them to be present in a small city that has been safe for two years.
They have been positioned there because of al-Qaim's strategic location, he said, noting that the border town has served as a crossing point for militias supporting the Syrian regime, and has become a hub for these militias.
The presence of Iran-backed militias in this area supports Iran's goal of gaining control of key areas along the Syrian and Iraqi borders with the eventual goal of establishing a trans-regional land route, experts have told Diyaruna.
Unsafe to return
Thousands of displaced families from al-Qaim have opted to remain in Erbil, Baghdad and Ramadi and even the displacement camps, rather than return to a city they see as being unsafe, al-Issawi said.
Many al-Qaim residents would like to return but do not feel safe because of the presence of Iran-backed militias, he said.
This presence is easy to observe, he added, noting that some militiamen affix pictures of Iran's Supreme Leader Ali Khamenei to their vehicles or chests.
"I left the city, as did many others, and we still hear stories about those militias that are taking liberties with the city, as they did with the Iraqi-Syrian border before that," he said, referring to documented smuggling attempts.
The presence of armed militias inside and at the entrances of Iraqi cities is in violation of a previous government order, Iraqi Forces Coalition MP Yahya al-Mohammadi told Diyaruna.
This order stipulates that the PMF must be moved outside cities and away from contact with residents, he said, noting that "there are complaints about the behaviour of some elements of those armed groups".
Al-Qaim resident Ali al-Ani said he and his family left the city for Erbil weeks ago because of what he described as harassment by Iran-affiliated militias.
He told Diyaruna the city has been safe from ISIS for many months, but is now facing a new threat from the militias, and is no longer a safe place for families.