Iraqi forces are adopting new tactics to increase the efficiency of military operations in Anbar's western desert as "Islamic State of Iraq and Syria" (ISIS) remnants struggle to survive in its harsh environs, officials told Diyaruna.
Special airborne forces tasked with identifying and immediately destroying specific targets deep in the desert have been deployed as part of the new military tactics, said Iraqi Ministry of Defence spokesman Maj. Gen. Tahseen al-Khafaji.
"These forces rely on surprise attacks and destruction of enemy targets in the desert," he said.
"An airborne Counter-Terrorism Service (CTS) force, with backing from army aircraft and coalition forces, has launched fatal attacks this month that resulted in large losses in the terrorists' ranks," he told Diyaruna.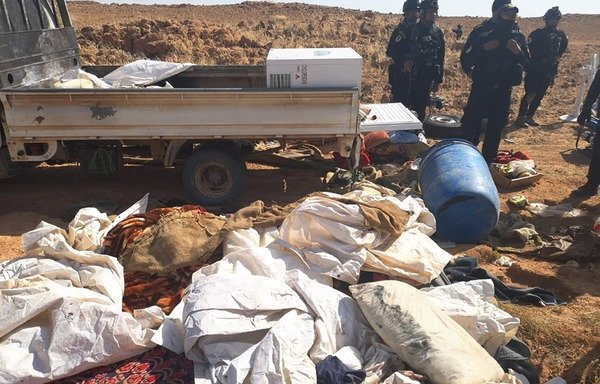 Six ISIS elements wearing explosive belts were killed in a May 20th assault in the western desert, he said.
On May 15th and 16th, A CTS force conducted landings in Wadi Houran's desert, killing nine ISIS elements, he said.
ISIS safe houses and a large camp were destroyed during these operations, al-Khafaji said, along with 50 explosive devices, weapons, internet routers, computers, electrical and solar generators, and food and medical supplies.
Boosting intelligence work
"In conjunction with these operations, we have been working on diversifying our intelligence sources and providing security forces with information on the movement and location of terrorists in the desert," he said.
"Our task is no longer limited to conducting search operations but also to investigating intelligence information and using it to attack the enemy in specific locations," al-Khafaji said, noting that this leads to more precise operations.
The vast western desert is difficult to monitor, he said, "but by using intelligence from the international coalition and from our own reconnaissance activities and surveillance aircraft, we are now moving with greater precision".
Al-Khafaji noted that shepherds and bedouins have been key in providing intelligence that has helped Iraqi forces develop better military strategies.
"Thanks to civilian reports, we are now leaving no stone unturned," he said.
The latest intelligence reports indicate ISIS remnants are losing ground in the western desert, he said, noting that this is partly due to intensified co-operation among security leaders in Anbar, Ninawa and Salaheddine provinces.
Joint operations have been targeting desert areas on the outer edges of these provinces which serve as the last sanctuary for ISIS remnants, he said.
Tribes, bedouins support security
The tribes of al-Jaghayfa, Albu Nimr and Albou Mahal have taken an active role in the latest security operations, said Ghanim al-Aifan, a tribal leader in western Anbar.
During Operation al-Jazeera Lions, conducted in early May, tribal fighters and members of the security forces killed nine ISIS elements, he told Diyaruna.
They also destroyed four safe-houses and torched a vehicle and a motorcycle in the Jabal al-Manayif area between Anbar and Ninawa, he said.
"The participation of the tribes and bedouins strongly supports any security operation since they are familiar with their areas," he said, noting that their help, whether by taking up arms or submitting intelligence reports is "key to securing the desert".
Iraqi intelligence forces seek to build a database on the desert using an advanced technological system, Anbar provincial council security committee chairman Naeem al-Koud told Diyaruna.
The system involves modern equipment to listen in on ISIS remnants' communications and monitoring them on social media, he said, as well as intensifying surveillance via drones and thermal cameras.
Security operations in the desert "are yielding significant results thanks to the co-operation of Bedouin communities that have started to pass on information regarding the locations and movements of terrorists to the intelligence services", he added.