Iraqi army and tribal forces killed four "Islamic State of Iraq and Syria" (ISIS) leaders during a raid on their hideout in the desert area of Wadi Houran in western Anbar, a tribal leader said Thursday (August 29th).
Iraqi army and al-Baghdadi tribal forces arrested two other ISIS leaders in the hideout, south-west of al-Baghdadi, tribal official Sheikh Qatari Samarmad al-Obeidi told Diyaruna.
The raid was part of the Will of Victory campaign, he said, noting that the operation has focused on ridding western Anbar's desert of ISIS remnants.
"ISIS has lost many of its leaders and key elements in these recent operations," al-Obeidi said.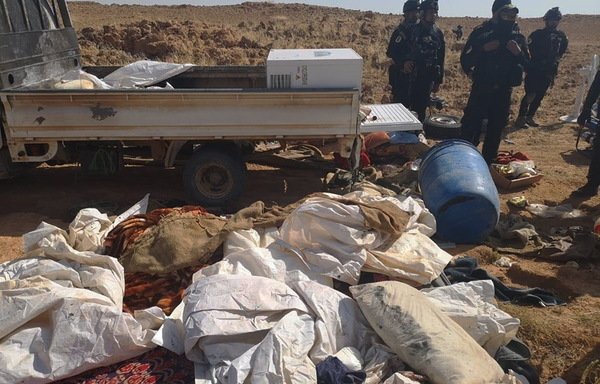 "Security activities in Wadi Houran, within the 7th Infantry Division command's sector of responsibility, in addition to our tribal force, have yielded great results with regard to ridding that sector of ISIS remnants," he added.
"This week we have destroyed dozens of tunnels and hideouts in the wadi with the help of Iraqi army and international coalition aircraft, killing those inside them," he said.
In addition, he said, supplies and weapons belonging to the group were destroyed, and four vehicles they had been using were set on fire.
Weakened ISIS presence
Al-Obeidi disputed media reports that claimed there had been 3,000 ISIS fighters based in Wadi Houran before the fourth stage of the Will of Victory campaign began on August 24th.
"That is not true," he said. "Even before our recent operations, the group suffered great weakness due to the high number of security sweep campaigns."
"Our intelligence data indicated there were dozens of ISIS elements and leaders hiding and moving about in small groups of no more than four or five individuals," he said.
These were "the last" ISIS elements who remained in Wadi Houran "after a series of effective strikes and attacks on their hideouts", he said.
They "were not free, moving about as they wish, but were surrounded, getting food and water by threatening and blackmailing shepherds and Bedouins", he said.
The recent security campaign has "tightened the noose" around the remaining ISIS remnants, he said, "and their fate is inevitable death, sooner or later".