Iraq's Ministry of Defence has stepped up its tactics to consolidate its control over Anbar's desert areas, where a series of recent military operations have crippled the capabilities of the "Islamic State of Iraq and Syria" (ISIS).
For years, the vast western desert, which accounts for more than a third of the country's geographical area, has served as an incubator for extremists, who have been able to stay out of sight and range thanks to its unwelcoming terrain.
In recent weeks, however, Iraqi forces taking part in the ongoing Will of Victory campaign have succeeded in conducting the largest sweep operation of its kind in the western desert, and are bearing down heavily on ISIS remnants.
The campaign has been achieving its objectives, ministry spokesman Maj. Gen. Tahseen al-Khafaji told Diyaruna, with participating forces "able to search, purge and secure vast areas of the desert from multiple axes".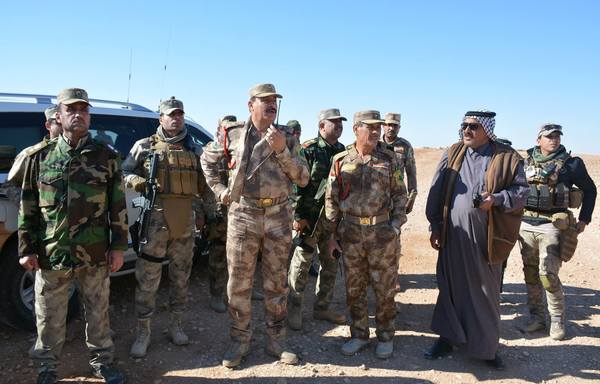 "Our tasks do not end here," he added, as much work remains to be done.
Database of security information
"We are working today to develop our tactics to tighten our grip on security in the desert and respond to any new attempts by the enemy to escape being targeted or carry out terrorist activities," he said.
As part of these measures, "we built a database containing detailed security information" obtained during the Will of Victory campaign.
The database includes information pertaining to the killing and arrest of numerous ISIS leaders and elements and the location of their hideouts, he said, and is being analysed to help with future operations.
The Will of Victory campaign quickly succeeded in its objectives thanks to information and assistance provided by Iraqi civilians, he said.
Good communication with the local population is critical to obtaining the most accurate intelligence on the movements of ISIS remnants, he said.
With this information in hand, he added, "monitoring and tracking missions use the latest surveillance technologies to find the remaining terrorists in the desert, track their communications and correspondence and infiltrate their ranks".
Iraqi forces intend to "increase the number of airborne operations against selected targets and carry out specific high-impact tasks", al-Khafaji said.
These operations have already begun to yield results, he said, noting that early successes include the seizure of a sophisticated anti-armour guided missile system with launch-pads and weapons found in a safe house in Wadi Houran.
This discovery wad made on September 20th by a unit of the 8th Army Division's 38th Brigade, he said.
Safe haven no longer
The desert areas of Anbar used to be the "safest haven" for ISIS, Anbar tribal leader Qatari Samarmad al-Obeidi told Diyaruna.
"Before the launch of the Will of Victory campaign, terrorists were trying to regroup and resume their activities from the desert areas, particularly Wadi Houran," he said. "But these operations broke them and thwarted their plans."
"Most of the wadis and areas of the desert -- most notably Houran, al-Qathf, Samil, al-Dabaa, West Kubaisa -- were searched during the sweep," he said, and dozens of ISIS tunnels and shelters were destroyed in airstrikes.
"The transition to a new phase of the security effort hinges on ensuring that the desert remain under control," al-Obeidi said.
This will be achieved "by continuing and developing the intelligence, pre-emptive and reconnaissance operations", he added.
Iraqi forces have made a tremendous effort to secure the desert areas, Anbar provincial council security committee chairman Naeem al-Koud told Diyaruna.
Security forces "succeeded with intelligence support in conducting precise strikes against the terrorists' camouflaged and concealed hideouts", he said.
The operations included "large-scale search and tracking efforts", he said, followed by efforts to hold ground with the deployment of security patrols and the establishment of fortified positions.
Sophisticated techniques were used to obtain and verify security information, he added, and to strike specific enemy targets.
To further improve the security situation, al-Koud said, efforts to reinstate 7,000 members of the Anbar police force, who were dismissed because of their absence from work when ISIS overran the province in 2014, must be expedited.
The return of these officers to active duty "will alleviate the burden on the active forces and give us greater capability to maintain security in the desert", he said.