The Iraqi army has received command of al-Habbaniya airbase in Anbar province from the international coalition, the coalition's spokesman said Saturday (April 4th).
The al-Habbaniya base, located 80 kilometres west of Baghdad, is the fifth military base to be handed over to Iraq since March 17th, following the bases of al-Qaim, K1 and al-Qayyarah, in addition to the presidential palace site north of the city of Mosul.
The handover of these sites is part of the coalition's effort to enhance the Iraqi forces' capability to independently maintain security and stability.
Col. Myles Caggins, spokesman for the combined Joint Task Force - Operation Inherent Resolve (CJTF-OIR), announced Saturday that the coalition is leaving an airbase located in central Iraq.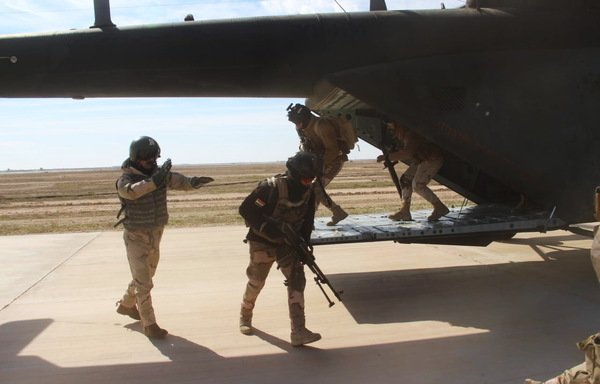 He tweeted that "after months of planning", at least 500 CJTF-OIR troops had departed the Taqaddum (al-Habbaniya) airbase, transferring $3.5 million in equipment and structures to the Iraqi government.
The Iraqi Ministry of Defence "remains strong against ISIS in Anbar province", he said.
The handing over of al-Habbaniya airbase is "an important step and an indication of progress towards achieving readiness for our forces", military expert Maj. Gen. (ret.) Jaleel Khalaf Shuweil told Diyaruna Tuesday.
"International coalition advisers have helped enhance and develop our troops' expertise in all aspects through their extensive training over recent years," he said.
"The training has helped develop our fighters' skills in multiple areas, including air support, urban warfare, hostage rescue, and carrying out landings on terrorist targets, in addition to technical training," Shuweil said.
It was held in the form of "successive courses given to entire army and police brigades", he said, noting that "in addition to the training, the [coalition] also equipped them with weapons and military technology".
Confidence in Iraqi air force
Shuweil expressed confidence in the Iraqi pilots' competence and ability to execute combat and reconnaissance missions as needed after al-Habbaniya base is handed over to them.
"Today, we have qualified and well trained pilots in the Iraqi air force, who have successfully passed all tests and can provide crucial air cover to our ground units... especially in the western desert and in mountainous areas," he said.
The 88th and 55th helicopter squadrons have been transferred to al-Habbaniya base to help provide air coverage for military campaigns in the Anbar desert, according to the Iraqi Ministry of Defence.
The base will also be beefed up with a squadron of reconnaissance drones.
"The enhanced level of readiness does not mean that the mission has been accomplished," Shuweil said. "It is true that we have accomplished a great deal, but the need for more training and support from our international partners and friends is not yet over."
"Terrorist groups have suffered heavy defeats," he said, "but their remnants are still active and have the ability to regroup as they constantly develop their tactics to adapt to all conditions."