Residents of north-eastern Syria have welcomed the autonomous administration's decision to distribute food to those who are unable to meet their daily needs amid closures related to the novel coronavirus (COVID-19), a local activist said.
The majority of businesses are closed in these areas as a result of the global pandemic, putting many daily wage earners out of work, Kurdish Red Crescent official Azad Dudeki told Diyaruna.
The administration is continuing to compile lists of families in greatest need of assistance, as part of a co-operative effort between local councils and displacement camp officials, he said.
"The food distribution process has already begun in a number of areas where such lists have been completed," Dudeki said.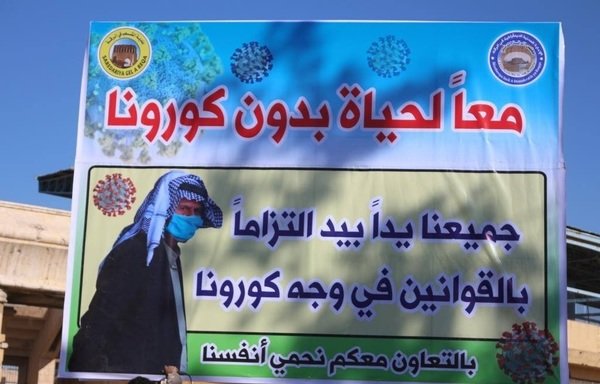 The level of awareness about novel coronavirus has risen notably among area residents, who have been complying with health directives, he said.
Fixed hours of operation have been established at food stores, he said, and a nightly curfew is being enforced from 7 p.m. to 6 a.m.
Security forces have tightened enforcement of the curfew, and are dealing sternly with violators, the majority of whom are reckless youth, Dudeki said.
Warnings are being given for the first violation, he said, with penalties being imposed on repeat offenders.
Disinfection operations are meanwhile continuing in all areas overseen by the autonomous administration and the Syrian Democratic Forces (SDF), he said.
This includes periodic street cleaning and disinfection, he said, noting that the disinfection of government and service institutions is almost completed.
Most of these facilities have been closed.
Health services are running at maximum capacity, he added, noting however that there have been no confirmed cases of coronavirus infection in the areas overseen by the autonomous administration so far.