The autonomous administration in north-eastern Syria has put in place several precautionary measures to curtail the spread of novel coronavirus (COVID-19), a Kurdish official said.
These measures include preparing medical posts and centres for dealing with the global pandemic, as well as organising awareness campaigns, Kurdish Red Crescent official Azad Dudeki told Diyaruna.
The administration has closed schools at all levels and banned large gatherings such as parties, weddings and religious ceremonies, as well as sporting and academic events, he said.
It also has suspended the operation of general transport buses, he said, as well as family visits to inmates at all prisons and detention centres in the area.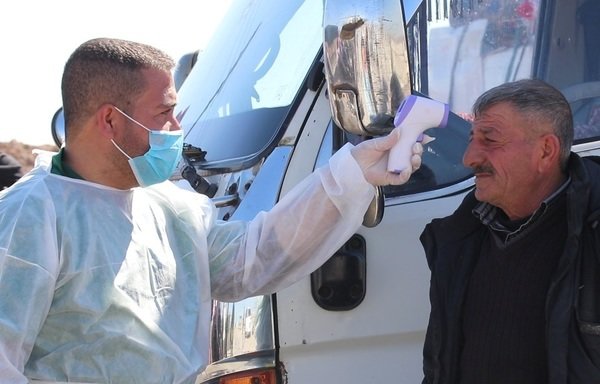 Many of the area's medical centres have been equipped to deal with coronavirus infections, Dudeki said, and groups of medics and nurses have been given training on the established procedures for dealing with such cases.
Medical posts in displacement camps also will be on the lookout for infections, he said, and have been briefed to deal with them immediately to prevent the spread of the virus.
Additionally, public squares, facilities and administrative offices have been disinfected, he said, and some have been closed temporarily.
Crossings monitored, closed
Dudeki said that monitoring has been tightened at all crossings with other regions, as part of a co-operative effort by security and medical personnel to check the health status of people passing through them.
A number of crossings have been closed, he said, particularly those leading to areas controlled by the Syrian regime.
Also, monitoring has been tightened inside the camps and movement in and out of them has been restricted to a minimum.
With regard to awareness-raising efforts, Dudeki said campaigns are emphasising the importance of citizens minimising trips out of their homes and refraining from gathering in large numbers.
Meanwhile, he said, patrols are being conducted to monitor markets and pharmacies for price manipulation and exploitation, especially regarding the sale of disinfectants and other supplies that are in heavy demand at this time.
Dudeki noted that the administration's Health Authority has yet to record a case of coronavirus infection.